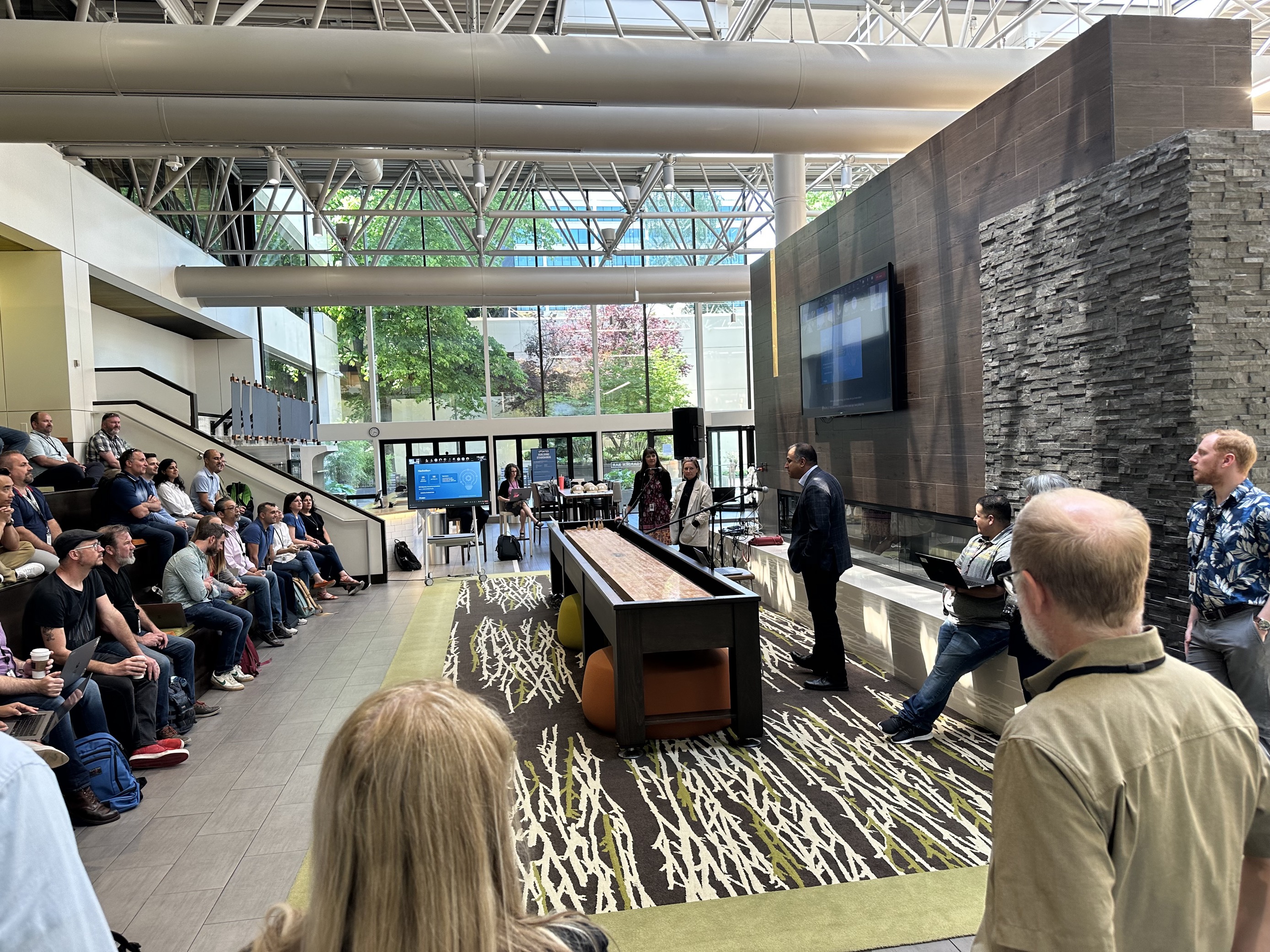 Main image: Teams gathered for hackathon presentations
What happens when teams of Cambia colleagues come together for the annual hackathon event? A hive of innovative and hardworking people producing creative ideas in a short time.
This year, 96 enthusiastic colleagues formed 19 cross-functional teams and worked over three days, bringing to life the Cambia value to Be Innovative.
The projects, identified during a pitch process, focused on topics like behavioral health, mobile apps, artificial intelligence, cybersecurity and password management. Submissions more than doubled from the previous year, showing a growing enthusiasm for the event.
Each team brainstormed, pooled resources and worked diligently to build a technological solution to a business issue. Some teams chose to improve an existing process; others developed a new product concept. Teams then presented their plan, prototype or proof of concept to a panel of leaders and their peers for consideration.
"I was pleasantly surprised and enjoyed the hackathon because I got to step away from the day-to-day, get some new creative juices flowing, collaborate with new folks, and see some of the different outputs, which was impressive," said Jen Tschirpke, a senior product manager.
Andrew Tollefson, a senior data reporting analyst, said, "Our presentation may not have been the flashiest, but I believe the implementation of our proposal would result in improved outcomes for our members and would allow us to continue to be responsible stewards of our customers' dollars."
The hackathon has no official winners, but several presentations advance to the next round of review, where project concepts are evaluated and prioritized to determine whether they should be fully integrated into the data and technology team's work.
Even though some projects are never integrated into Cambia's official work, the hackathon's creativity and teamwork have value across the company. The event provides a unique opportunity for leadership to see Cambia's creative energy in action and uncover new opportunities to make health care easier and lives better.