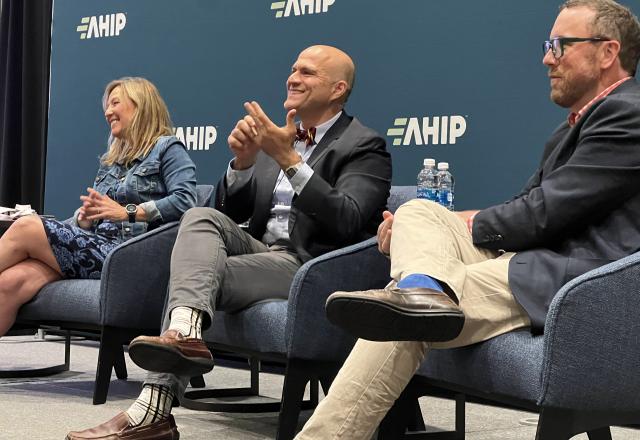 Main image, L-R: Dr. Donna Milavetz of Cambia, Dr. Farzad Mostashari of Aledade, and Rob Coppedge of Echo Health Ventures
Leaders from Cambia Health Solutions and its strategic investing arm, Echo Health Ventures, appeared at a key industry conference last week to highlight Cambia's leadership in helping deliver innovative, value-based care for rural communities.
Cambia Chief Medical Officer Dr. Donna Milavetz and Echo CEO Rob Coppedge spoke on a panel at AHIP 2023 in Portland. They were joined by Dr. Farzad Mostashari, the co-founder and CEO of Aledade, which helps independent physician practices work with health plans to deliver value-based care.
Cambia works with Aledade across three states (Oregon, Washington and Utah) to deliver significant savings and improved outcomes for members, many of them in rural communities, Milavetz said. 
"Members have that enhanced value of getting their preventive services as well as chronic disease management that is part of these (value-based care) relationships that Aledade helps manage on our behalf," she said.
The partnership also improves the business model for independent physician practices by making it easier for them to work with health plans on proactive care. "Independent practices add competition to the marketplace, and they give our members choice, which is really important," Milavetz said.
Echo Health Ventures, meanwhile, is an investor in Aledade as well as in other innovative health care technology and services companies. Echo's mission is different from a typical venture capital firm; it seeks to drive health care solutions like Aledade to improve health outcomes for Echo's health plan members like Cambia, Coppedge said.
"When done well, corporate venture can unlock that innovation," he said. "What the entrepreneurs need is scale, they need channel, they need to be able to figure out faster whether there is product-market fit. What the health plans need are solutions; they need to solve problems. It's a magical thing when you can get those two entities aligned."
In a separate panel at AHIP 2023, Jae Coleman, director of product management at Cambia, featured another successful partnership with an innovative provider. Speaking on a panel with Dr. Jeff Krauss, chief medical officer at Hinge Health, Coleman said that Hinge's digital app to treat people with muscle and joint pain meets health plan members where they are at.
The app provides access to physical therapists for members who live in rural areas and is a more affordable care option than in-person PT, Coleman said. Hinge also provides a care solution for young people.
"How are we solving for the way that millennials are coming to health care?" Coleman said. "They don't do health care the way the generation did before. They don't understand why it can't be on demand. So, we decided we needed to solve for that."