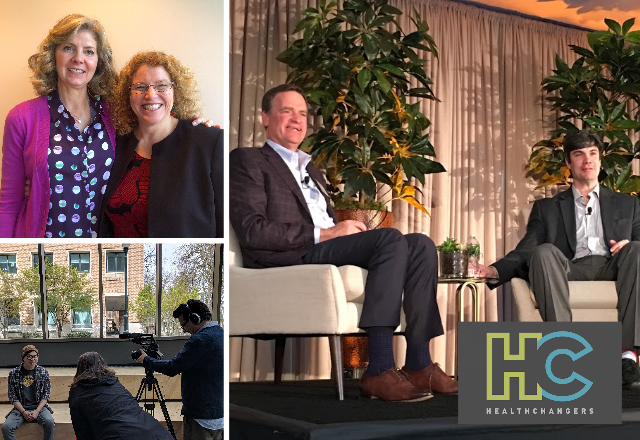 The end of 2019 marked the completion of our third season of the HealthChangers podcast. We wanted to take a look back and revisit some of our fan favorite episodes of the year, all of which have a common theme – health and the good of the community.
We share excerpts of the top three stories, from health transformations happening to address the opioid epidemic, the connection between health and business and the impact of food insecurity. These stories dug deep to look at the root of chronic and systemic issues, sharing real stories from people and the innovations happening in the space.
1. HealthChangers Podcast: Tackling the Opioid Epidemic
Opioid misuse and addiction continue to be a nationwide epidemic. Every day in the United States, more than 130 people die from an opioid overdose. In fact, the crisis is so great that today more people in the U.S. die from overdoses than car accidents.
In this episode of HealthChangers, we talk with Dr. Jim Polo, the behavioral health medical director for Regence health plans, and Phil Caruso from Walgreens to take a closer look at the opioid crisis and what is being done to help address this epidemic in our own communities. They also look at ways of dealing with the leftover medications that often lead to overdoses.
2. HealthChangers Podcast: Good Health is Good for Business
Time after time Americans have said their number one concern is health care. Especially the cost of health care. In this episode of HealthChangers, we'll hear from someone who is working to make health care more accessible and affordable for Americans. This innovator works for a company you might not associate with health care: it's Walmart. And his name is Marcus Osborne, Walmart's vice president for health and wellness transformation. We recently caught up with Marcus and Cambia's CEO and President, Mark Ganz, who share a passion for making health care more consumer-centric.
3. HealthChangers Podcast: Healthy Food, Healthy Communities
Forty-five million people in the United States live with food insecurity. That is one in every eight households, making it a national crisis. This issue hits particularly close to home. Oregon has one of the highest childhood food insecurity rates in the nation. Many families live in homes where they lack available financial resources for food at the level of their household size. This impacts one of every five local children.
In this episode of HealthChangers, we are taking a closer look at what is being done to help address this public health crisis in our own communities. We're joined by Angela Dowling, the President of Regence BlueCross BlueShield of Oregon. She's also on the board of the Oregon Food Bank. It is an organization that is addressing our communities' need for nutritious food today, while also creating a long-term solution to hunger. Angela sat down for a conversation with Susannah Morgan, CEO of the Oregon Food Bank.
You can find more information on all our episodes at cambiahealth.com. Follow us on Twitter @Cambia. You can now find HealthChangers on all of your favorite platforms. Just search for "HealthChangers" on platforms like Apple podcasts, Spotify and iHeartRadio. Please subscribe and leave a review.