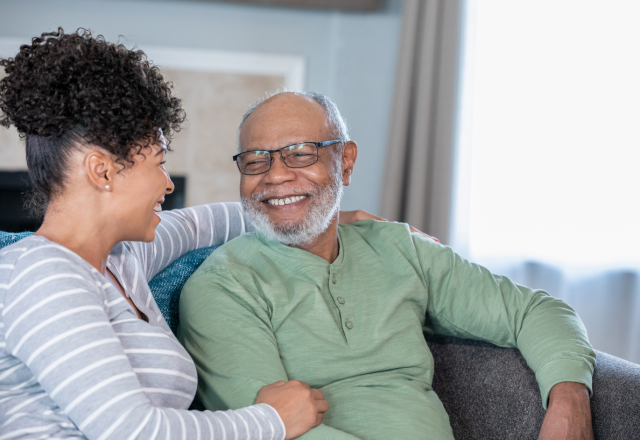 Throughout the COVID-19 pandemic, the number of people caring for family or friends in need has grown while caregiving itself has become more difficult. In a recent survey of 259 caregivers, Cambia found that many caregivers are feeling the strain.
Nearly 50% of female caregivers and 40% of male caregivers reported self-care has become more challenging. And many have had to take time away from work to provide care.
To cope during this time, many caregivers have turned to peer groups to share their experiences and learn from other caregivers who understand what they're going through. Of those surveyed, 31% of caregivers said they have used support groups, online communities or forums in the last six months. And 36% of respondents said support groups or online communities would help them the most in their role as a caregiver.
Holly Chaimov, executive director of Parkinson's Resources of Oregon, says online resources have been a critical form of support for caregivers during the past year as they cope with increased isolation and a heavier workload.
"COVID has cut off their normal escape hatches," Chaimov says. "They're not able to go out with their friends or have somebody over safely. All the ways that we socially support each other and lift each other up have been really challenging."
Many caregivers are also juggling multiple responsibilities: In addition to caring for someone with a long-term illness or disability, they might also be helping their children with remote learning, working from home, or delivering groceries to a vulnerable neighbor. With everything on their plate, it can be difficult or impossible for caregivers to take a break, which they need to maintain their own health and sustain their care for others.
For caregivers who are facing physical and emotional fatigue, virtual support groups can be a place to find a compassionate community. Chaimov says in the past year, groups have not only shared helpful information and resources, but also provided an emotional boost.
Without the outside help some caregivers used before the pandemic, many have also had to learn new caregiving skills, and online classes have been a popular resource, Chaimov says. One class her organization offers, for example, teaches caregivers how to safely lift and move patient.
Another resource that many caregivers find helpful are classes that focus on caregiver wellness.
"Many caregivers don't identify as caregivers because they say, 'It's my family, so that's what you do,'" says Mike Hirschi, director of the Area V Agency on Aging in southeast Idaho.
That sense of duty can overwhelm their own needs, which they may not consider a priority. To support caregiver health, Hirschi's agency offers classes focused on self-care techniques for caregivers.
In Cambia's caregiver survey, 41% of respondents said they'd be extremely likely to use solutions and guidance to support their own quality of life and wellbeing, such as tools for reducing stress. And one-third said they'd be extremely likely to use mental health services for caregivers.
"COVID has cut off their normal escape hatches," Chaimov says. "They're not able to go out with their friends or have somebody over safely. All the ways that we socially support each other and lift each other up have been really challenging."
A majority of those surveyed also said they'd use tools that connect caregivers, and tools and guidance to provide and coordinate care, and door-to-door transportation services.
While virtual tools can provide important education and support, one challenge Chaimov and Hirschi have seen is the digital divide: For caregivers without reliable internet or an internet-capable device, accessing online classes and support groups may be impossible.
To help more caregivers connect to these resources, Cambia helped provide iPads and internet service through technology donations to multiple non-profit partner organizations, including Idaho's Area Agencies on Aging. This donation helped Hirschi's organization distribute iPads to caregivers to help them access telehealth appointments, take classes and meet with support groups.
Multiple studies show that caregivers are at increased risk of depression, anxiety and negative health outcomes. CDC released a report in 2020 revealing many caregivers have contemplated suicide.
Similarly, Cambia's survey findings highlight the need for caregiver support and resources, so that caregivers can attend to their own needs, in addition to the loved ones in their care. As one respondent wrote, "The most important thing for caregivers to know is not to forget about yourself. Your needs seem to get caught up with taking care of others and you forget about yourself. You cannot help others if you yourself are empty."
For more information, check out the resources for caregivers on our website.