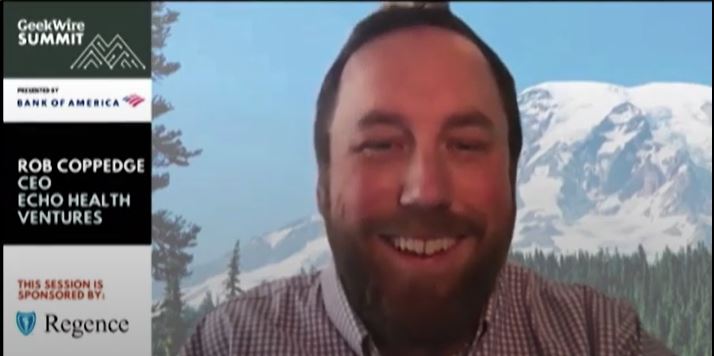 Tips from the GeekWire Summit
Experts explored wrinkles within health care delivery and data management at GeekWire's 2020 Summit, which hosted some of the brightest thinkers in the health care sector. Dr. Marion Couch, Cambia's Chief Medical Officer, and Rob Coppedge, Echo Health Ventures CEO, spoke on the role of interactive, accessible data to personalize support and aid people through their health care journeys. 
How Two Organizations Found Common Ground Through Data 
Dr. Couch spoke with Bill Robertson of MultiCare on our regional health plan partnership with the hospital chain and how data is driving new functionalities for health care consumers – that are easy to use and put people squarely in the driver's seat of their health care experience. 
While the pandemic has strained the health care system it has also brought about positive change, like an increase in telehealth, Dr. Couch said. Payers and providers will need to work closely together. "When we (as payers) empower health systems and providers to share in savings and make things more efficient and better, we're always going to get better outcomes." 
Watch highlights from Dr. Couch and Bill's talk below. 
Transformation of Health Care 
Later in the Summit, Rob was joined by Google Cloud Director of Global Health Solutions Aashima Gupta, Microsoft Chief Medical Officer David Rhew, and STAT News' health tech reporter Erin Brodwin to discuss the digital evolution of health care and where COVID-19 has accelerated progress.
Rob shared his view that 2020's progress was not actually technological, but cultural. Over the last eight months people have become increasingly open to new formats and sites to receive care. He says that shift has happened independently of technologic evolution, as the technology fueling this shift pre-dated the pandemic. In order to sustain that growth, he says that solutions providers must consider themselves both consumer-centric and health-system centric as interconnected as "two ends of the same telescope."
 
This is where interoperability comes into play, allowing consumers and health systems equal control of the data informing actionable insights and care decisions. 
"What kind of interoperability matters to the consumer? They need to be able to walk in and have providers understand them, and understand where they are in their care journey. I'd say a lot of that exists today but the barriers to that understanding are less about the technology and more about the fact that it's not in anyone's best interests to help consumers along that journey, and they have not had the tools to carry that with them. I would say it's not going to really change until the health systems break through that barrier that they can actually have a sustainable economic model that doesn't rely on locking them into that model, but setting them free."
Watch additional highlights from Rob's panel, here.