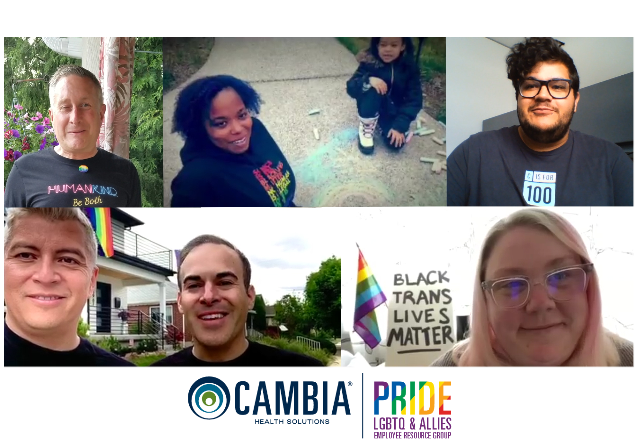 The LGBTQ Pride celebration we know today began as a riot 51 years ago when Marsha P. Johnson defied the system. Taking a stand against the hate and discriminatory policies she had faced as an African American trans woman, she threw one brick, sparking the riot at the Stonewall Inn. The dayslong uprising was neither peaceful nor palatable – but the action earned the LGBTQ community a voice in the American experience, and an initial commitment to acceptance.
Last year, Cambia employees took part in raising the Pride flag over Cambia's Portland office, and we asked those celebrating what Pride month means to them. This year we were unable to have that celebration in person, so we spoke with Cambia's incoming PRIDE Employee Resource Group co-chairs, Jacob Charlson  and J Sanders, about their priorities for 2020, how they're staying connected with their community and celebrating Pride in a socially distant world. 
1.    What does Pride mean to you during June, and all year-round?
JS: For me, Pride is about community – whether it's your family, the town you live in or the place you work – It's about identity and belonging. And it's about living your life to its happiest and fullest. June is when we take the time to celebrate Pride, in commemoration of the Stonewall Riots which was an important historical milestone, but I believe the celebration of Pride has evolved far beyond that now. There have been many milestones since that fateful June more than half a century ago. Pride is also about leading by example, and paving the way for future generations. With LGBTQ youth at a higher risk of physical and mental health issues, it's important to show kids that they belong. 
JC: For myself, Pride is about living my truth, celebrating who I am and being fearless in a sometimes cloudy world. As an openly gay man, Pride extends beyond the annual celebrations in June, as it is an everyday occurrence for myself and many more. As an avid researcher I've exposed myself to the foundations of the current Pride movement, and as I sit here writing this out, am becoming misty-eyed at the thought of people, my people, being treated unkindly, ridiculed, forced to leave their jobs, beaten up, and even murdered, just because of who they are; unfortunately this is a shared experience among many minority groups. The foundations of Pride month were a call to action, advocating for equal rights, civil liberties and freedom to be who they are, who we are. Pride is so much bigger than one person, it's bigger than one community, state, government. Pride is a collaborative movement towards a better future for all. So when you ask "What does Pride mean to you during June and year-round?" it means living a fearless life because no matter who you are, or who you love, you deserve to be just that. 
2.    What is an employee resource group and how does the PRIDE ERG help Cambia and its family of companies inform inclusive health care? 
JC: The role of an ERG is actually in its name, it's an Employee Resource Group, by employees and for employees. We want to make sure that everyone is getting the resources to have an exceptional experience working for Cambia Health Solutions. It's our aim to help create an inclusive and diverse workforce where members of the Community feel supported from our colleagues to the senior leaders of our company. It's important that the people who work for you feel supported in their roles, but it's also important that our employees feel comfortable being who they are. You know, most of us come to work for 8 hours a-day, that's a third of your day. If you come to work and feel uncomfortable or like you're not able to be fearless and live your truth, then you're really only living 2/3 of your life, and that's not worth it, frankly. 
JS: Yes, ERGs are first and foremost, a source of support for Cambia employees. They're also really great for Cambia's business, as a prong in our human-centered design strategy. ERGs encourage a diverse workforce, which helps Cambia better understand and support our customers as individuals and shape an inclusive workplace. The insights our PRIDE ERG members provide have helped drive a number of health care initiatives, including customer service training and member-facing support. Each ERG offers checks and balances when talking about sensitive topics, which helps create health solutions that work for everybody, no matter how they identify.
3.    How many employees are part of the PRIDE ERG, and in how many locations are you represented? 
JC & JS: There are roughly 270+ members of the PRIDE ERG and counting. We're grateful to have representation from all four states. In Washington we have members in Burlington, Seattle and Tacoma. In Oregon we have members in Portland and Medford, in Idaho we have members in Lewiston, and in Utah we have members in Salt Lake City. Each location is overseen by a Community leader who leads activities on site to engage members and educate other employees. Additionally, with a strong remote workforce, we're represented throughout the U.S.
4.    Can you describe why it's important to hear from the LGBTQ community year-round, not only during June? Beyond June's Pride, what other programming do you offer employees?
JC & JS: It is important to hear from the LGBTQ Community and other marginalized groups all year round because heteronormative business practices and other problems we face don't only affect us in June. They're everyday struggles. We give more emphasis in June to talk about what issues are facing the Community today, but those same issues extend beyond June. Through the PRIDE ERG we host panels with notable LGBTQ speakers, most recently on marginalized youth mental health, and our intranet site houses information about historic people in the LGBTQ movement. Beyond the ERG, all employees have access to Cambia's Employee Assistance Program, which includes 24/7 crisis line and behavioral health support. This is especially important for transgender people who experience disproportionate health disparities, and often confront significant stigma and access challenges when they seek care. We believe there's always opportunities to expand the resources and programs we make available to employees and we'll be looking at that during our term as co-chairs. 
5.    Is there anything you're excited about working on as the new PRIDE ERG co-chairs?
JC: I'm excited to get back to the basics and really do an assessment of how the PRIDE ERG can help support our employee members but also how we can proactively breakdown barriers in our partnership with other ERGs and departments within the organization. 
JS: I'm super excited to be working with my co-chair, Jacob. The beauty of sharing the PRIDE ERG leadership role is that we bring our own unique perspective and ideas, along with those of our members, as we formulate our unified approach to supporting employees – especially with the unique challenges we'll be facing this year.  
6.    How do you stay involved in the LGBTQ community outside Cambia?
JS: With so many friends and family who are part of the LGBTQ community, it's easy for me to stay connected. I also try to volunteer and participate in local events and organizations as much as possible. I've been a supporting member of Human Rights Campaign for the last 15 years, and more recently I've joined in supporting organizations like Basic Rights Oregon and the Pride Foundation. With this year's COVID-19 crisis, I think it's especially important to support local LGBQT-owned small businesses. 
JC: Outside of work, my life is very simple, but I do stay connected. I've mentioned before and I'll say it again, gaming has been a saving grace. There are several Discord channels, Reddit groups and other social media options when it comes to staying connected with the community. Of course with social distancing, it makes it difficult to be able to meet in person, but the online aspect of it does break down that barrier to allow us to still get together. 
7.    Will you be marching in any makeshift Pride parades, perhaps down a socially distanced street or just across your living room? 
JS: We are working with the PRIDE ERG members to create a virtual celebration in June. For me personally, Father's day and the annual Pride celebration have become pretty entwined – usually the parade happens on that Sunday; my daughter and I are working on a plan B (backyard, socially-distant, Zoom-enhanced, rainbow-adorned cookout).
JC: I will be participating in online Pride events. I think for the solemnity of what Pride means to so many people, it's important to show up however you can. That being said, if you have found an online parade or celebration, please share it with us so we can share it with our Community here at Cambia.