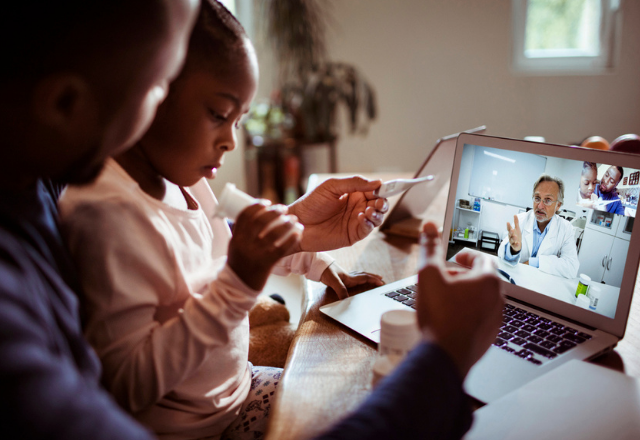 Last March, the world as we knew it changed. What started as a two-week lockdown turned into a year-long public health crisis that permanently changed the health care industry, from how we advance health equity to how we can use innovation to transform health care for individuals and their families. 
With the pandemic in its second year, we asked some of our leaders to share their predictions about health care in a post-pandemic world. What will it look like? What values will define it? Read on to find out their predictions and perspectives on hot topics like corporate philanthropy, innovation and heath care transformation. 
Accessible care is more important than ever, shares Chief Revenue Officer Angela Dowling.
The pandemic has rapidly enabled widespread adoption of digital provider access. We will still require face to face health care visits, but COVID proved that many can done virtually, providing a catalyst for change. 
Technology has helped ease access to care across the board, but the biggest impact I've seen when talking to employers is in behavioral health. Before COVID, you would have to carve out time to physically travel to the appointment, typically between the hours of 8:00 a.m. and 4:00 p.m. Now, you can access care 24/7, and oftentimes see that same provider for repeat sessions. Digital solutions have also removed the stigma of seeking behavioral health care support. Thankfully, more people today are getting the care they need through virtual visits. This past year has been incredibly stressful in so many ways. Giving consumers greater access to quality, affordable and convenient mental health care is more important now than ever before.
Health care must continue to be person-focused, especially when designing tools for consumers and their families, according to Chief Information Officer Laurent Rotival. 
The pandemic has brought forward the adoption of telehealth services by a decade. This rush to use digital tools has also exacerbated the challenge of navigating across telehealth, health apps and patient or member portals. The imperative to design integrated experiences for the person, wherever they are, whatever their needs, must be at the center of everything we build!
Corporate philanthropy will advance health equity and build resilience, says Cambia Health Foundation President Peggy Maguire.
Moving forward, our philanthropic investments will focus on building resilience and removing systemic barriers so that everyone has access to what is needed to lead their healthiest lives. We will facilitate equitable vaccine access as we work to advance health equity through community partnerships that promote whole person care and address social determinants of health, including access to mental and behavioral health in rural communities.  COVID-19 has reinforced the importance of palliative care for people with serious illness care their caregivers, and we will continue to support innovation, leadership development and resilience of this critical workforce.
Meeting the patient where they're at in their health journey through telehealth and behavioral health services will remain essential, according to Echo Health Ventures Strategic Investment Partner and Principal, Dusty Lieb and Kurt Sheline.
We believe that the rapid onset of virtual care has catalyzed consumer comfort in this new, more convenient of care delivery. This has caused a broad shift in how people access care, with virtual as a new front door. However, numerous complexities need to be navigated in ensuring that "clicks" are as valuable as "knocks," and that virtual care drives cost savings, improved outcomes and consumer experience. 
Innovation and adaptation will make health care more financially sustainable, shares Cambia Grove Executive Director Maura Little.
The name of the game for innovation is adaptation. Innovators have been adapting to elements surrounding their work for decades. The adaptation of the health care system has changed to support innovation. With the pandemic turning the health care system upside down, the health care system had to either adapt its practices or make very hard decisions about their ability to serve. Unfortunately, we have seen many organizations deal with a financial crisis on top of the pandemic. If we use the learnings of the last year, we will find a way to unlink finances to poor health, to truly serve individuals and families. 
Learn more about our leaders and their work at Cambia: