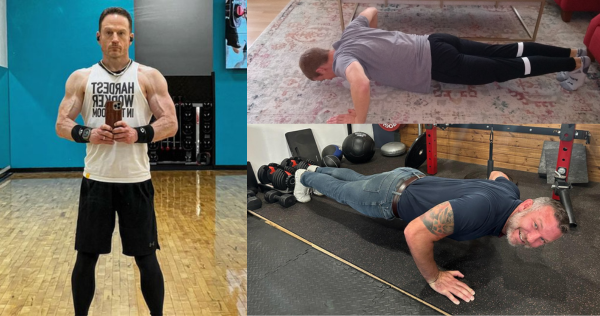 Main image, clockwise: Robert Miller, Kevin Schiedler and Derek Shell participating the the annual fitness challenge. 
Every September during National Suicide Prevention Month, Cambia's Military Community Employee Resource Group (MCERG) hosts the 22 Fitness Challenge to raise awareness of the high rate of veteran suicide in the United States.
Through the annual Challenge, the MCERG can direct funds provided by Cambia's corporate social responsibility team to four nonprofit organizations that support veterans' needs. This year, 143 Cambia employees competed on teams representing four nonprofit organizations.
From Sept. 1 to 14, participants completed 22 daily push-ups, sit-ups or planks, then on Sept. 15, "beast mode" began, and participants did as many exercises as possible until Sept. 22. 
Nonprofits benefitting from this year's challenge included:
Although each organization received a donation, the nonprofit represented by the team with the highest fitness challenge score received the largest donation.
This year, Team PAWS won first place, earning $2,500 for Paws Assisting Veterans. In second place Team NAMI earned $2,000 for the National Alliance on Mental Illness Homefront; in third place Team Grow earned $1,500 for Growing Veterans; and in fourth place Team Valor earned $1,000 for Valor Pointe.
Data Specialist Dawn Hughes has participated in the fitness challenge since it began in 2016, inspired by her former fiancé, a career Marine, who suffered from PTSD and died by suicide seven years ago. She said she doesn't want to see anyone else go through that kind of loss, and participating in the fitness challenge "helps me feel that I can help in a very small way." 
Project Manager Robert Miller incorporated the challenge into his exercise routine. When asked how it felt to take part, Miller said, "Sore! But it makes me happy to contribute, to see what I can do, and to help the team I am on. It's a very important and worthy cause."
Actuary Kevin Schiedler, who also has family members who died by suicide, said he's also sore by the end of the challenge. "But I am glad to participate in an event to raise awareness of a difficult issue and to help support organizations that help veterans who are struggling." 
Derek Shell, a data governance consultant, participated in the fitness challenge for the first time this year. As an athletic and competitive person, Shell appreciates that this challenge provided a lot of motivation to support a great cause. "As a veteran, this cause hits close to home for me," he said. "Being a service member has inherent challenges, but transitioning from military to civilian life is very difficult for many veterans. I have known too many friends and family members who have struggled with that transition. The need for awareness and support cannot be understated."