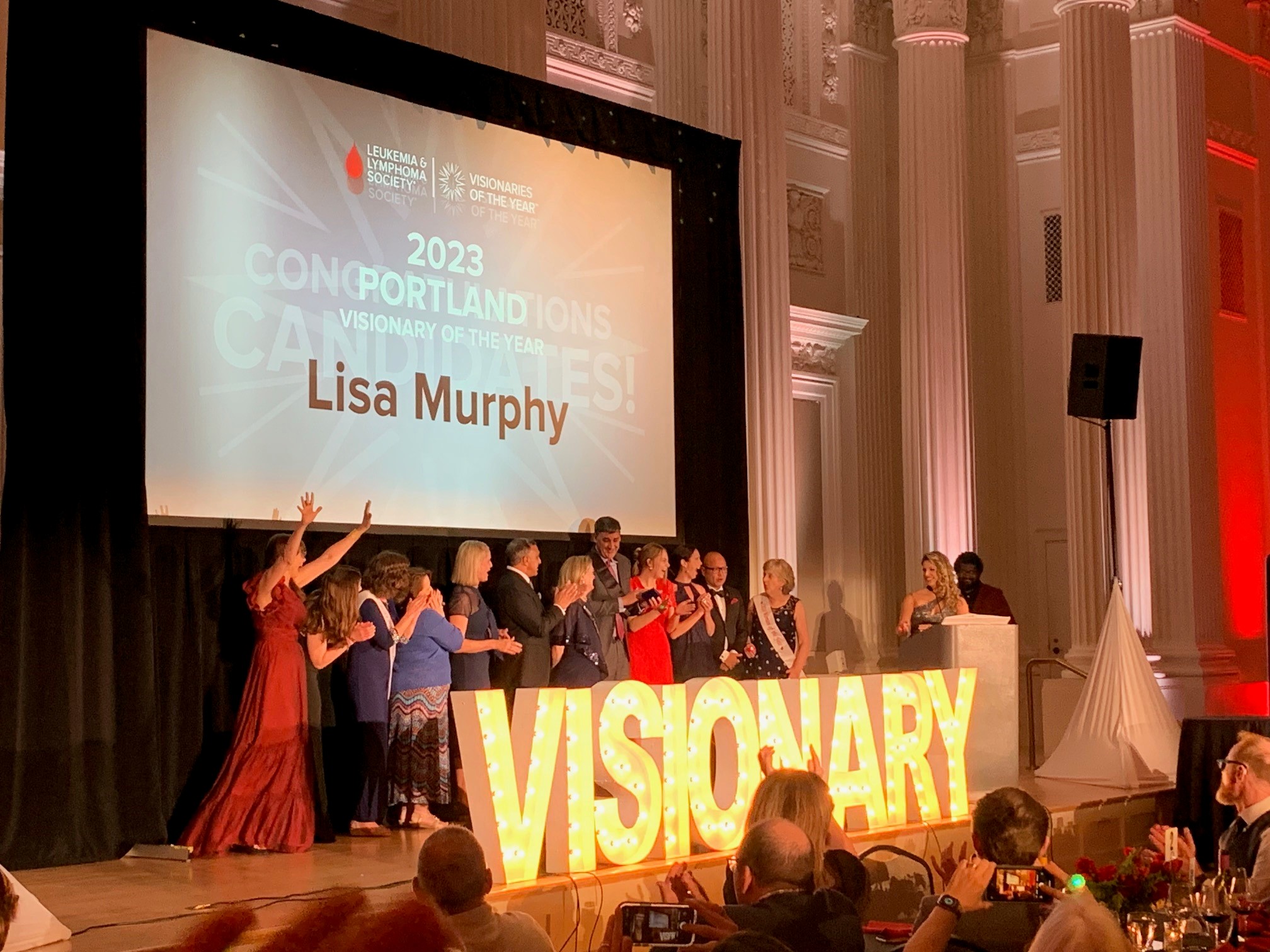 Lisa Murphy, senior vice president and chief of staff at Cambia Health Solutions, was named a Leukemia & Lymphoma Society's 2023 Visionary of the Year at the nonprofit's annual gala on May 14. Murphy created and led a team of colleagues called "Murphy's Mission Possible" to raise critical funds in support of LLS's ongoing fight against blood cancers like leukemia and lymphoma.
Together, the Cambia team and their networks helped raise $209,000, a record-breaking amount for one team for this event and more than two-thirds of the $315,000 brought in by the overall LLS campaign this year. Murphy's Mission Possible team included Cambia colleagues Steve Herman, Gary Lau, Peggy Maguire, Andrew Over, Jessica Richard, Alissa Seidlitz and Tracy Wiese. Steve Herman won "Team Member of the Year" for raising the most across all candidate teams this year.
In the U.S., a person is diagnosed with leukemia, lymphoma or myeloma approximately every three minutes. It's estimated that more than 1.5 million people nationwide live with or are in remission from leukemia, lymphoma, myeloma, myelodysplastic syndromes or myeloproliferative neoplasms. 
"Leukemia is the most common childhood cancer, and so many of us have friends and colleagues whose families have been affected by blood cancers," Murphy said. "LLS funds research to find cures and to assist patients and families as they experience this heartbreaking disease. I'm proud to be supporting this worthy cause."
"Murphy's Mission Possible" team used the Cambia Health Foundation's (CHF) community leadership fund and peer-match programs as part of its months-long effort to raise money and awareness for LLS. This concluded at the 2023 LLS Visionaries of the Year event in Portland to celebrate those who joined the campaign and the total money raised.
In 2022, CHF  introduced the peer-match program, where individual employees can use their own money to match donations from coworkers up to a specific amount. The goal is to empower employees to help raise money for causes that mean the most to them. A $10 donation, for example, would be matched by the peer at 100%, plus CHF's 50% match of qualifying nonprofit donations, which combines to triple the impact at $30 total. Murphy's LLS campaign is the largest fundraising effort to use the peer-match program since its introduction last year.
Visit lls.org to learn how you can get involved and help combat blood cancer, whether you're interested in starting your own team or volunteering.