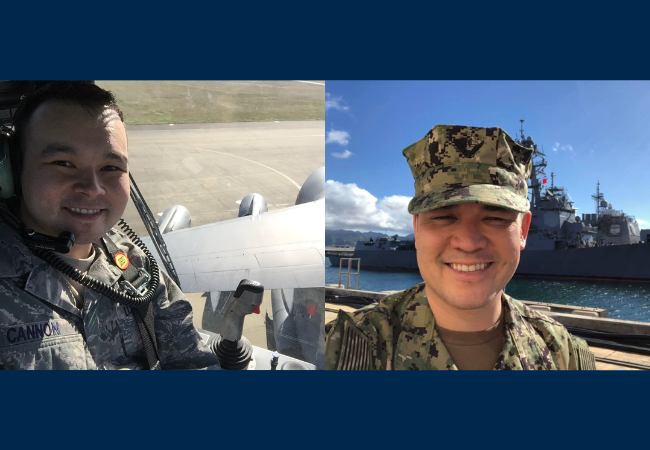 Pictured above: Veterans who spoke at virtual event John Cannon (L) and Rusty Pang (R)
Our Military Community Employee Resource Group (MCERG) hosted a virtual gathering on Veteran's Day to honor the veterans who work at Cambia. Dr. Jim Polo, executive medical director and the MCERG's executive sponsor, gave an introduction and then two Cambia employees spoke to the virtual audience about their military experience, what it's like to be a veteran at Cambia, and how military service informs their civilian careers. 
Rusty Pang spent seven years on active duty in the Navy, four years in the reserves, and now works in Cambia's internal communications department. He talked about how he and his fellow sailors remained united through good and bad times. Whether they were competing to see which group could cheer the loudest or facing an emergency on their ship, the sailors remained united and focused on a common goal. Pang said of his time as a sailor, "we were unified under a single uniform with a shared mission and core values—honor, courage, and commitment." 
Pang also talked about how his military training helps him in the workplace as a civilian. "When it gets difficult during transitions at work, when a job is difficult or I'm not performing as well as I'd like to, it's very important that I pull on the military training, which is to muscle through and focus on what needs to be to be done and the grander vision of why we are here." Pang also noted that he appreciates how at Cambia our common goal is our Cause—to serve as a catalyst to transform health care, creating a person-focused and economically sustainable health care system—which helps us stay united and focused. 
John Cannon, data insights analyst and co-chair of the MCERG, was on active duty in the Army joining after 9/11 and then transitioned to the Air Force Reserve. During the Veteran's Day employee event, Cannon shared a story about his time on active duty in Iraq as well as his experience transitioning into his civilian career. "Being in the military has made me a values-driven person," said Cannon. "I have worked for plenty of companies since going to college and starting my civilian career. I can say that not every organization out there is values-driven or supportive of veterans, especially one who is a reservist. Something I saw in Cambia is that it is values-driven and supports all employees including veterans."
We appreciate the skills and values that our veterans like Pang and Cannon bring to the work at Cambia. As a company, we know it is not always easy for veterans to transition into civilian careers, so we work hard to create a workplace where they are supported. We are proud that Cambia has been named a 2022 Military Friendly® Employer by Viqtory Media since 2017 in recognition of strong hiring programs and meaningful jobs for service members, veterans and spouses. Learn more about Cambia's commitment to being military-friendly by visiting our veterans' career page.