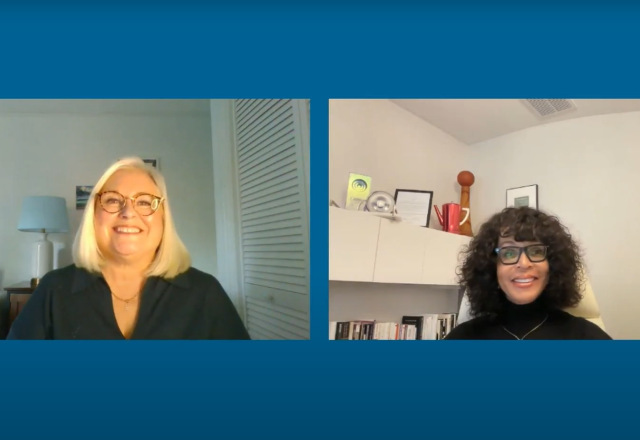 Pictured above, L-R: Peggy Maguire and Paula Jones
In this episode of HealthChangers, Peggy Maguire, president of Cambia Health Foundation, speaks with Paula Jones, who recently retired after serving on the board of directors for Cambia Health Solutions for 12 years. Paula was instrumental in the formation and strategic direction of Cambia Health Foundation. In honor of the Foundation's 15th anniversary, Peggy and Paula recall the Foundation's beginnings, its lasting legacy and its plans for the next 15 years.
---
Transcript:
Introduction: Welcome to the HealthChangers podcast presented by Cambia Health Solutions, where we share real stories of health care transformation from those experiencing it and those helping to make health care more personalized.
For the past 15 years, Cambia Health Foundation has been working to transform the health care journey by connecting changemakers to the resources and knowledge they need to maximize their impact. Since 2007, the Foundation has funded over $110 million in grants to advance whole-person care models at every stage of life to build a just and inclusive health care system for all.
Today on HealthChangers, our guests are Peggy Maguire, president of Cambia Health Foundation, and Paula Jones, who recently retired after serving 12 years on the board of directors for Cambia Health Solutions. Paula was instrumental in the formation and strategic direction of Cambia Health Foundation, which recently created a new endowed scholarship named in her honor.
Peggy Maguire (PM): Welcome, Paula. It's so great to have you here. Thank you for your time. I cannot believe the Foundation is celebrating our 15th anniversary this year. And of course, you remember how it all began. You were a very big part of it. Let's start out by having you tell us a little bit about how you came to work with Cambia and what interested you in the work.
Paula Jones (PJ): When I arrived at Cambia, it was known as Regence. I had received a phone call from a dear colleague and friend who I had worked professionally with over the years. He said that Regence was beginning to take a look at their community outreach work. That they had a very strong business cause. That they were encouraging, not only their clients, their customers and their providers to begin to think about health care in a different way, but they also wanted to do some things in the community that would indicate that they were moving forward into some areas that perhaps had not been looked at. 
I submitted a proposal along with a number of other consultants, and fortunately, I was selected. I came into Regence, and it was such a blessing because Regence, in my opinion, has always been very open and very transparent. I was invited to visit every market, every leadership group, community leaders, and employees to talk to people about what Regence stood for. That was the foundation, that was the beginning. From there we moved into what type of, I want to say, signature community outreach might we get involved in.
PM: That's great. It was lucky for us that you were engaged and that you submitted the bid because I think with your creativity, intelligence and passion you really helped the Foundation board get to a great place—work that I'm very proud of and proud to have carried on. Why don't you tell us a little bit about how the board came to find its signature program at the time?
PJ: It was almost mind-changing for me. I had come out of running very, very large corporate foundations and very large community outreach programs all over the world. And for a health care company, an insurance company, to step into an area in the '90s called "palliative care" when it wasn't known as that. I don't even want to use the term that was being used at the time, Peggy, because it was such a negative term. To step in and say, it's not about dying. It's about how do we help support people who are in chronic illness situations themselves. How do we support the families, the caregivers and those persons who are helping them to survive these difficult times? How do we do some things? How do we help the national dialogue? How do we help our medical schools to think about dying as part of living or chronic illness as part of a health passage?
Even now you can tell it made me so emotional back then. I still get chills, that we were willing to take that on. And out of that, the Foundation was born. At the time, it was the Regence Foundation. Then as Regence evolved into Cambia, it became Cambia Health Foundation. 
And over time, with your leadership and with the board of directors of the Foundation, it has grown in ways that I don't think any of us could have ever imagined. It is the number-one signature-changer in my mind. And, it's written and we've gotten awards. I say "we"; I'll always be "we". I'm sorry. I adopted myself into the family. But that's what happened over time. And then our community local programs became more strategic, more targeted, focusing on the things that were important in those communities in ways that were helpful to us.
Where could we apply our resources to an area in health care where it would really make a difference in people's lives?
PM: Thank you for your leadership, for your outreach to the community, for listening to the top leaders in the company and for helping to shape something that has really defined us. Sometimes people ask me, what are you most proud of about the Foundation in the last 15 years? And I think it's that original leadership and that bravery; the willingness to go where no one has gone before and not to shy away from something because it was controversial or unknown. We were not looking for the highlights or the headlines. We were more looking at what can we do that is consistent with the company's overall mission of transforming health care and making health care experiences better. Where could we apply our resources to an area in health care where it would really make a difference in people's lives?  And that was the focus. I just applaud your work and the original board of directors and leadership at the time for having the bravery to move into an area that, as we all know, was the subject of political ranker at the time. And, so, good for all of us.
PJ: What really makes a difference is when companies aren't afraid. When they're willing to take a risk. And Regence was and Cambia is [willing to take risks]. I think it would be helpful to our listeners if you could then talk a little bit about the Sojourns Awards because that became the bell that you point to at the top. Maybe you could tell us a little bit about that?
PM: When we started on our signature Sojourns Program, we first started by providing seed funding to local hospitals in our region so they could build their in-patient palliative care programs. And then we gave the original Sojourns Awards to the folks who were building those programs—to the leaders and the pioneers in the field. What we did every year was we held a luncheon where we gave them an award; it came with a $50,000 grant. We said this is our investment in the good work that you are doing, and we want to shine a light on your good work so that other people become aware of what palliative care is and how it can help them. 
Then a couple of years later, we did a survey. We partnered with the National Journal to do a national survey of consumer attitudes toward palliative care. We found out that most people didn't know what palliative care was. They had never heard of it. But once our researchers gave them a definition of it, people said they wanted it and thought that more discussion about it would be helpful and that it should be a priority for the health care system.
We started investing in emerging palliative care leaders. 
What we also learned, at that time, was that there wasn't a palliative care workforce. And so, we changed our original program from recognizing existing programs to then building the workforce. We started investing in emerging palliative care leaders.  We were betting that our ability to identify, cultivate and advance the next generation of palliative care leaders would create change in the health care system, would improve the immediate care of people with serious illnesses, but then transform our overall health care system to be more person-focused, economically sustainable, holistic and healing. I get goosebumps when I think about these people that are in the program. 
We have funded 96 scholars to date from all over the country from, the east coast to the west coast, to the south to the Midwest. We have folks from Harvard, Stanford and Yale. We have folks from community health centers. We have social workers, chaplains, physicians and nurses. We've created a community of changemakers who are completely dedicated to transforming health care and improving the patient and family experience.
It's a very competitive program now. We get a lot of applications. We only fund up to 12 scholars a year. Each scholar receives a two-year $180,000 grant to work on an innovative project for the field of palliative care, but also to work on their own development as a palliative care leader. They get communications training. They get policy training. They work with a professional mentor. We have an advisory board of palliative care leaders who are serving as mentors to the scholars once they enter the program. 
We started this program in 2014. We said we were going to fund 10 cohorts so that we would get to a hundred scholars across the country. We are just launching our application process for the 10th cohort. By the time the program is over, we will have funded more than a hundred scholars. I think they're just the shining lights of change across our country and in our health care system. 
PJ: We've been together long enough that you know that I talk about life as a journey. And that thinking about the processes that we go through, I think it could not be more appropriate to honor those people and to hold them up so that they can continue to help the rest of us. Because there's no one who won't be touched by one of these situations. There's just no one. So having this is just so incredibly important. I just wanted to make sure we shared that.
PM: As you've said, we've known each other a long time and I know you're incredibly strategic and passionate about the work that you do. But you're also passionate about mentoring, giving back to others and lifting people up. We've talked about your impact on the organization as a whole and hence your impact on the system. But let's talk about the impact you've had in terms of mentorship and the people that you've led.
PJ: Well, first of all, you just said it a few moments ago, life is really about relationships. It's about listening, hearing and then responding. It's about being able to get out of your own way and out of your own tunnel vision to allow space for others and for their opinions. It's about really wanting the best, not of what you think the best is, but to help someone else, to help others become the best of who they should be.
And so, my formal mentoring started when I started high school. I went to a really tiny little all-girls Catholic high school in Chicago. There were only 40 young women in my class and 140 in the whole school. My job was to mentor, coach and tutor a Yugoslavian student. I didn't even know where Yugoslavia was. Clearly, I didn't speak the language. But that was my first job at mentoring. And it was so wonderful because she had to teach me so that I could teach her the things that both of us were supposed to be learning. It just started a wonderful relationship. 
All of us have gifts and we have gifts that we can share with one another, and we can help each other. So, one of my passions has always been mentoring. I have done it. I have volunteered. I now do executive coaching. It is my lifeblood. What's interesting is I never thought of it that way, but in every professional role that I've held throughout my 40-year-plus career in major corporations, I realized that the biggest impact I had was working with some incredible people where we taught each other how to move forward in to becoming the best of yourself. Nobody knows who the best of yourself is except you. You know when you've given your best. And so, I've continued to do that. 
I was blessed that at Cambia I was encouraged to do that by senior leadership. You and I created a relationship, and I always tell people, you know, to me there are three legs to this stool. There's mentoring, there's coaching and there's sponsorship. Don't get confused about those three different legs. 
Being a mentor is, I want to say, it's almost sacred. You have to trust each other. You have to want the best for the other person. But it's what I do. I'm also fortunate that in my personal life, my husband and I do not have any children. It just wasn't God's plan for us. We've had the opportunity over our marriage to be able to reach out and support other young people and other people in our community, by helping them to look at the world, to stand taller, to push harder. I think everybody benefits. I was able to do it at Cambia. I continue to do it in my personal life, and I think we all benefit.
PM: I love what you said and your approach to mentoring. It's about finding that light inside someone and that special gift that they may not have uncovered yet, but through that discernment process or tough conversations, self-awareness begins to grow and people can step more fully into who they are, and then their impact is just so much greater. And, you know, I'm speaking in the third person, but I'm also talking about myself.
PJ: And we all go through that, you know. It's also about being a safe place where someone is not afraid to take risks. Risks are hard, you know, risks are hard. We think about it, and we talk about it. Life is made up of risks—personal and professional.  
Peggy, you know, I was thinking about something. All of us in the last few years have gone through such significant change personally, professionally, and the Foundation, because of COVID. Could you fast-forward us to how it has impacted the work of the Foundation and where it might be moving as a result of some things we learned, saw and experienced?
PM: Thank you for that question. It certainly has impacted the work of the Foundation. When the pandemic hit and we were all immediately sent to work from home, our team was focused then on meeting the most urgent needs in our community. We went from our traditional grantmaking to making sure all the food banks were funded. We funded the food banks in our region. You know houselessness became an issue. We really went deep into helping community organizations survive and meet the most urgent needs of our community. As you know, there's just been tons of literature on this. COVID magnified the gaps and inequities in our health care system. We saw cracks and they just split apart with COVID. And it was impossible to go back to our prior grantmaking. 
This model of whole-person health that we learned through palliative care is now being brought forward to help people who are hurting the most in our communities.
We really needed to think about, what is our role as this corporate foundation in a world that has forever been changed by COVID-19 and the multiple complex interrelated issues that came from it. And so much as you did when you engaged the original focus groups and the 52 leaders in founding the Foundation. We talked to our community partners. We talked to leaders in the company. We had several focus groups where we asked about what are some priorities and community needs. We looked at a lot of data on the needs of the community coming out of COVID. What we settled on was a 10-year vision to advance equity through whole-person health in underserved communities with our immediate focus on behavioral health. Because there were provider shortages even prior to COVID; it's just been exacerbated by COVID.
We know that people are hurting. We know that health care is multi-dimensional and interrelated with your social conditions, your behavioral health and access to physical care. This model of whole-person health that we learned through palliative care is now being brought forward to help people who are hurting the most in our communities.  
We are all complicated, interconnected beings. We're connected to each other.
So, we're focused on supporting the health care workforce and building up the behavioral health care workforce. We're focused on meeting the needs of children and their caretakers. We're focused on older adults in what we're calling healthy and connected aging. It's really taking this idea that we need to treat the person, not the disease. That we need to look at people and the whole spectrum of the social factors that impact their health, the behavioral factors and mental health and the physical health. We are all complicated, interconnected beings. We're connected to each other.  That's where we're going. I think COVID just showed us this path, that we need to help the people who are hurting the most and make sure they have access to behavioral health resources.
PJ: COVID showed us that there is no place to hide for anyone. We were all busily living our lives and then COVID said "stop". Okay, [COVID is] bigger than anybody. It's bigger than any community There are some communities that just don't have the capacity or the ability [to handle COVID]. There are some people who are hurting more, so I just think [the work of the Foundation] is amazingly wonderful.  
PM: Thank you. Of course, we remain committed to our Sojourns Scholars program and the relationships we've built, and the impact of that work. That will always be part of Cambia Health Foundation. It's our legacy and it's, you know, what we have done for the health care system.
PJ: Well, you know what, Peggy? You and I have been together long enough that I'll use something I always use. I may not have children, but I understand clearly the time and energy that parents, godparents, aunts and uncles put into children as they are growing, aging, learning and going to school. It doesn't disappear because they decide to become a rockstar. It's still there. They just may take a different path, but it's still there. 
The work of palliative care is not going to ever go away. It is forever transformed the way medicine is looked at—the way health care is looked at. It also transformed the way that we as a company have looked at how we do our work and how we support our Cause. There's no way it can go away. The Sojourn Scholars will forever be there. 
It's not like stopping that and starting something else. It's like your children growing into adulthood. It's part of the journey, but the base of that journey is every bit as important as what you build after you build a base. I just find it all very exciting and thrilling. I'm just so proud of you guys and proud that I was able to be a small part of it.
PM: Well, thank you. That was very well said. Paula, in recognition of your service to the Foundation and the Cambia company board, the Foundation recently established a scholarship in your honor. Tell us what that scholarship means to you.
PJ: I can't think of anything in my life that has meant more ever. And it means a lot because… You know, our future depends upon our ability to give back, to reach back, to support people. It's not what you get in this life, it's what you give. It's not what you take, it's what you give.  So, for us to be willing to acknowledge that there are young people out there who we want to help to have hope. We understand in the health care field that there are gaps. We can't fix all those gaps. There's not enough money in the world to do that. But we can give some young people hope, that they can be the example. 
It's not what you get in this life, it's what you give. It's not what you take, it's what you give.
And to have a scholarship in my name that says that you're going to get this bit of money… but you're also going to get something else. Somebody believes in you. There is a company and an organization that believes you can make a difference. And we're going to hold you to that. Life is about giving. We're going to give this to you and you're going to give to others. 
What's interesting is…I wish my husband was here because every time people would come over to our house, there were so many fingerprints on that thing [points to her Cambia board service award]. He comes and gets me; he walks us all around the house. He's showing it to them. He's telling them how proud of me he is. He said, "This is you. This is what you do. This is what you do every day of your life." And so, all I can do is say, thank you, Peggy, all I can do is say thank you. 
I am honored to be part of the [scholarship] selection committee. I'm honored that you reached back and got in touch with my colleague, Michael Alexander, who's the reason that I sent my proposal in to Regence, to begin with. He's now retired and doing wonderful things in your city, but he's going to be part of that selection committee. You and I will forever be connected. And my husband and I were delighted [by the scholarship]. We will continue to put money into the scholarship fund for as long as we are able, and we will help these young people to become the best of who they are. That's what it means to me. I am grateful beyond words, just grateful beyond words.
PM: The health care field needs young people who care about helping others and who want to give back. We are so lucky that we will be able to serve on the selection committee along with colleagues at the Oregon Community Foundation and with Michael Alexander, who was my predecessor as the original chair of the Cambia Health Foundation board. I feel so lucky that you, Michael and I will get to work together to review applicants. I'm sure these scholarship applicants will mean the world to us as we're going through them. I know we'll have hard choices to make, but we also know that these folks will carry forward the work in your name and will continue to make the health care experience better for people and families.
PJ: Yes, they can't stop us, Peggy.
PM: Never!
PJ: They'll never stop us.
PM: Paula, thank you for everything you've done to shape the work of Cambia Health Foundation and to influence my development as a leader. As we celebrate this 15th anniversary, I have a question for you.
PJ: Okay.
PM: It's about the next 15 years. What are your hopes for the future and where do you think this Foundation can go?
PJ: Oh my goodness…what a wonderful question. First of all, I think because there is such a strong base that Cambia Health Foundation is built on, I don't want to say the sky is the limit, because that's a little too ethereal. But if you think about what [our] palliative care has done… Cambia is based in four states. Palliative care has become the example, not just for the nation, but for the world. 
And I think that in the next 15 years, Cambia will have the same kind of success in demonstrating how you challenge, address and attack some serious health inequity issues as it's had in palliative care.
If Cambia does now in those four states with its outreach to those most in need, outreach to those who are underserved and give them tools and ways to better themselves, to become healthier, to become stronger, to become part of a health care system, that becomes a national example of how it can be done. And I think that in the next 15 years, Cambia will have the same kind of success in demonstrating how you challenge, address and attack some serious health inequity issues as it's had in palliative care. 
I think it has to be focused; it has to be measurable. It has to help those who it's helping to know that even the least of us, even those who have the least, have something to give. Nobody wants charity. It's just a matter of saying that it takes one to save one. It takes one candle and there's no longer any darkness. You can be that candle.  It can be your voice, it can be your hands, it can be the smile, it can be the greeting, it can be going to school and helping others. 
But I think that's what the next 15 years are going to show; that these models that are going to happen in these four states, with our employees, with our customers, with our providers, with the people we work with, with the communities, are going to become the national models for how you deal with health inequity.
It's just a matter of saying that it takes one to save one. It takes one candle and there's no longer any darkness. You can be that candle. 
PM: I love that. I actually got chills when you were talking. I think that we will become nationally known for the impact we have locally.  Where our programs are lifting up the most vulnerable folks in our communities and making health care easier for them and making their lives better. That's what I aspire to. 
I have been told that the Foundation punches above its weight. That we're not the biggest foundation, but we have great dreams, and we go after them. We partner with the community to do that, and we partner with our employees. One of the great things the Foundation has done over the past 15 years is to match 50% of our employee donations into the nonprofit community. And that match program has generated $33 million in support for our communities.
I think that we will become nationally known for the impact we have locally.
PJ: Absolutely.
PM: In the next 15 years, I want to continue to build on the strengths of this foundation, engage our employees in the work, help them to connect with what we're doing and elevate the voices of our grant partners and our community members so that everyone living in our four-state region has access to what they need to live their healthiest possible life. That's where we're going. 
PJ: Absolutely. I'm so proud of you guys, always.
PM: Well, thank you so much, Paula.
PJ: Thank you.
Outro: And that wraps up this episode of HealthChangers. You can learn more about Cambia Health Solutions and listen to past episodes at CambiaHealth.com. HealthChangers is also available on your favorite podcast platforms, like Apple Podcasts, Stitcher and Spotify. Just search for HealthChangers. Thanks for listening.