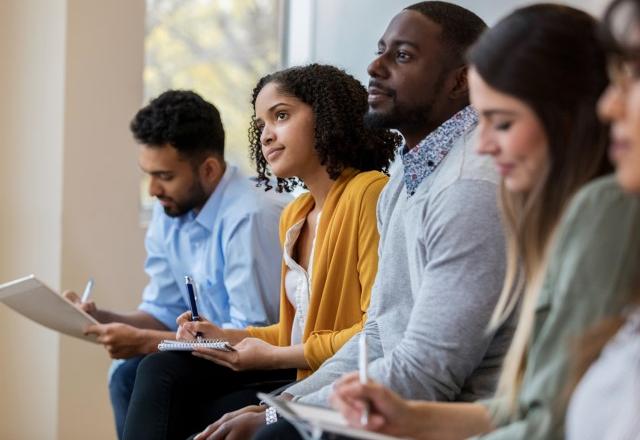 When it comes to ethics and compliance training, Cambia doesn't just check a box once a year. Our ethics department engages with employees year-round to ensure they are informed and supported. Creating a culture of trust is paramount to running an ethical business. Employees at all levels need to feel empowered to speak up and speak out -- not just about reporting suspected wrongdoing but also knowing with confidence that you can ask your manager how to handle even small questions.
Our designation as a World's Most Ethical Company reflects the spirit of openness and engagement we strive for at Cambia and the year-round investment we make in building and maintaining an ethical environment. Our employees are at the heart of our ethics. Their decisions make us a great company.
---
After being recognized as a World's Most Ethical Company for the fifth year in a row, we asked employees to reflect on what ethics at Cambia means to them.
"Cambia is full of people who love to solve complex puzzles and health care is really one giant complex puzzle; one that requires us to make a ton of decisions every single day. It's Cambia's strong ethical culture that enables us to make quality decisions that we can collectively feel good about on behalf of our members, our customers, our communities, our policymakers and regulators, our providers—so many people that we do business with and for every single day. This award, for the fifth year in a row, is a testament to all Cambia employees who are willing to roll their sleeves up and work to get to the right decision." - Martha Doyle, Commercial Product Solutions
"Ethics means so much to me because it is what I use when there is a gray area, and in HR a lot of gray areas can pop up. I am so proud to be a part of a company that has been recognized as one of the World's Most Ethical for the fifth year in a row. This tells me that we are leaning on our ethics. It solidifies the bragging that I do to candidates when I'm making offers. It makes me feel so honored when I come to work every day." - Michelle Estrada, HR Recruiting
"We live and work in an ethical culture here at Cambia. I'm proud to say that our team feels very supported by the structure that Cambia provides and by the focus that the leaders have on ethics and making sure we're doing things right." - Jackie Heaven-Ah Hi, Customer & Provider Service
"I feel very proud to work for a company that has been awarded one of the World's Most Ethical Companies for five years in a row. It says everything about us and our relationship, concern and commitment to what is good for our members and our society." - Linda Lotz, Compliance
"It's really great that Cambia has been named one of the World's Most Ethical companies again—five years in a row. I care less about the title and more about the fact that we really act that way. The Cause is our north star, but ethics are our road map. One of the things that keeps me happy and coming to work every day is knowing that everyone around the company is trained to do the best thing for our customers at all times." - Miriam Moore, Finance System Services
"Cambia's commitment to ethics has always been a differentiator for me. Our ethical backbone makes our customer commitments real. There has been so much uncertainty in the world the last two years, so much misinformation and vitriol, but we can always start the workday knowing we share our core values. And we're all doing what is right for our members and customers – it's as simple as that." - Jay Russell, Internal Audit
---
We are proud to be a World's Most Ethical Company and we take this designation seriously. It reflects how ethics is ingrained in our work across all our health plans and products throughout the year.
April is Ethics Month at Cambia—one of our cornerstone activities to keep ethics top of mind all year. Ethics Month is not a national awareness month; it is time set aside by Cambia to focus on all things ethics. During Ethics Month, the ethics department promotes its extensive catalog of resources, which includes an app, a podcast, a weekly email and discussion guides for managers. The ethics department asks managers to host quarterly discussions about ethics and provides ample support and materials for these conversations.
Ethics Month is also when we kick off our annual ethics and compliance training, host in-person and virtual training sessions and encourage employees to participate in a digital scavenger hunt to familiarize them with the ethics resources on our intranet. Through activities like quarterly conversations and Ethics Month, Cambia normalizes talking about ethics all year, empowers employees with information and tools to make ethical decisions and creates a culture of trust companywide.