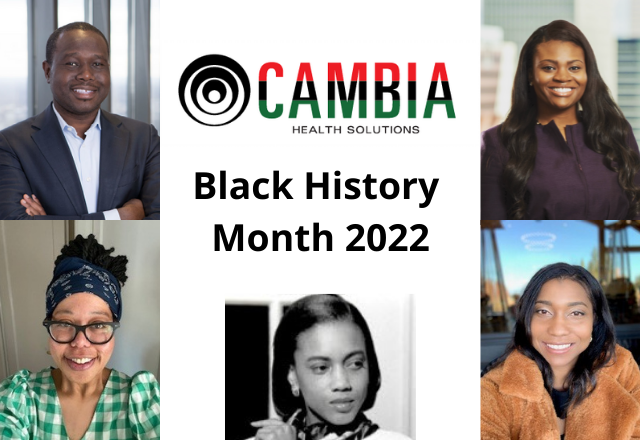 This Black History Month, we celebrate the work of our employee resource group, Black Organization for Leadership Development (BOLD). BOLD's mission is to enrich the professional and leadership development of Cambia's African-American employees through mentorship, community engagement, and advancing diversity and inclusion within Cambia. BOLD, one of seven employee resource groups (ERGs) at Cambia, provides space and time for Black employees and allies to gather, support each other and create a smaller, more intimate community within the company.
In addition to supporting each other, BOLD also supports the wider community by providing community service and giving opportunities. Cambia encourages employees to have a positive impact on the world by offering time off to volunteer, as well as a company match of employee donations to help increase impact. The power of BOLD comes from its members and leadership team—three employee leaders and one executive sponsor. We asked a few BOLD members to reflect on how being a part of this ERG impacts their experience working at Cambia.
Bethany Brewer
Business Operations
"BOLD has been a safe place to commune, discuss and help each other through unique shared experiences. I can't say enough of how thankful I was to have BOLD and its members to reflect with during the harsh and difficult time the Black community was hit with over the last couple of years.
Debbie Reynolds, BOLD Leader
Office of Program Management
"BOLD has brought me out of my shell. I'm a shy person, but with the current environment, being there for others is what has given me hope."
Janira Robertson
Member Services Knowledge Management Team
"BOLD has impacted my experience at Cambia by providing a network of support from professionals who share the same interests and values as myself. I love having that sense of community at work where you can share your experiences without judgment, give one another advice on career advancement, and help educate fellow employees about the African-American culture and health care issues that are affecting us. BOLD has also impacted me by allowing me to get involved with representing Cambia in the Portland community. It is so nice to work for a company that supports me and is always looking for ways to improve health care and awareness in the community. As well as investing in me as an employee."
Kilaa Slaughter-Scott, BOLD Chair
Health Plan Operations Service Delivery Excellence
"BOLD has helped to enrich my experience at Cambia. I am proud to work for an organization that values the voices of ERGs and the important role they play in the business. BOLD has assisted in shaping the way we serve our customers by providing direct input on our Branding and Health Equity initiatives, among other areas. It's an honor to work for an organization that supports ERGs in fostering community partnerships. When we help to enrich diverse communities, we become a healthier society."
Sam Yamoah, BOLD Executive Sponsor
Chief Strategy and Innovation Officer
"I am excited by all the ways our employee leaders and volunteers can make a positive impact, both inside and outside of Cambia. The BOLD ERG is a family to me, and I look forward to creating opportunities for members to thrive and deliver more value to the customers we serve."
Cambia is committed to supporting a culture of belonging and enhancing the professional experience of all employees. In the last two years alone, we've made significant investments in diversity, equity and inclusion work, mentorship, employee education and our continued support of the ERGs. Cambia strives to be a catalyst for change in our community, and we are so proud that our employees help drive this critical work.