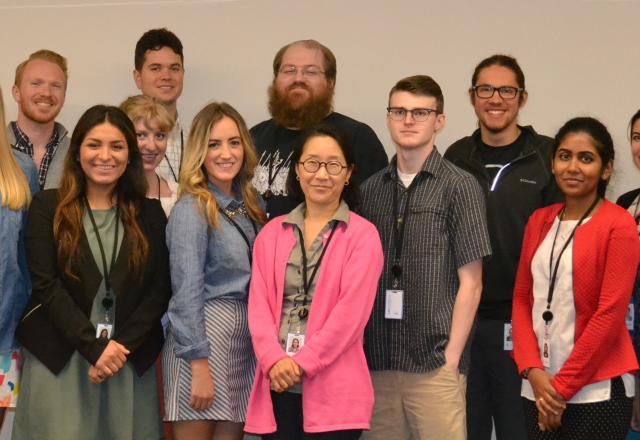 By Rachel Day, Strategic Communication/Brand Strategy Intern
You know the feeling…you're anxious, curious, and wondering how you're going to start your career. You're graduating from college soon, getting your degree. This can be as scary as it is exciting, and I know that all too well.
I graduated from Portland State University in June with a Bachelor of Science in Communication and a minor in Advertising Management. My goal was to have a job lined up before my graduation, and Cambia helped me reach that goal. A friend told me about her internship experience with Cambia, on the marketing team. She described her fun coworkers, brown bag lunches with executives and fellow interns, and all the work experience she had added to her portfolio. Then, she secured a permanent position after her internship ended. This was exactly what I was looking for.
By February, I was searching the Cambia internships page, and found a position that I was really interested in, Strategic Communication/Brand Strategy intern. From the description, I realized this role perfectly blended my major and minor into an internship that was perfect for what I wanted to do with my degree.
I applied, interviewed twice, and secured the position a few months before graduation. I walked across the stage in my commencement ceremony on a Sunday and began my career five days later.
My first day as a Cambia intern, we had an orientation giving an overview of our brand, our Cause, and our values as a company. Like any good job candidate, I researched Cambia before my interviews, but the orientation really helped me to understand the brand and the Cambia family of companies.
Since my internship began, I've written blogs, attended and executed social media for the Cambia Portland Classic, and written a description for an app. I've attended webinars such as; What Can Pokemon Go Teach Us About Designing Engagement in Health Care, Cambia 2020, and How to Create Powerful Video. I've also attended brown bag lunches with my fellow interns. This program allows interns to hear from Cambia Executives such as Chief Marketing Officer Carol Kruse, Chief Product Officer Rob MacNaughton, and Chief Financial Officer Vince Price, while eating lunch.
My favorite experience was the Internship Capstone. At the capstone, we were treated to a buffet lunch. Next, we were welcomed by Senior Vice President & Chief Human Resource officer Mark Stimpson, and heard presentations from President and Chief Executive Officer Mark Ganz and Chief Innovation Officer Mohan Nair. These presentations not only helped me understand Cambia better, but showed how much these executives care about fresh perspectives and growing our company with diverse ideas. Mark Ganz led an open discussion, readily taking questions from the interns. One takeaway that resonated with me from Mohan Nair's presentation was, "Be open, be curious, and design every day, it's not a project!"
During our break, we were reminded how important wellness is by engaging in short a stretching exercise. In the afternoon, we heard from Chief Operating Officer Jared Short and practiced elevator speeches. These are short "speeches" that are meant to give a great first impression in the time it would take to ride an elevator. This was terrific practice for the Capstone Reception. Here, we were joined by our mentors, team members, and executives. This was a great low-pressure environment to mingle with other departments and leaders.
Before my internship, I had no actual work in my portfolio, only class work and projects. Now, I have a slew of social media posts, blogs, and presentations to show after only a few short months. I've learned so much about Cambia. We work hard. We're creative, smart, and we bounce ideas off of each other for different perspectives. I'm a valued member of my team and during my internship this summer, I didn't feel like "just an intern." I wasn't sent on coffee runs, but, instead, given real projects and feedback to improve myself and my work.