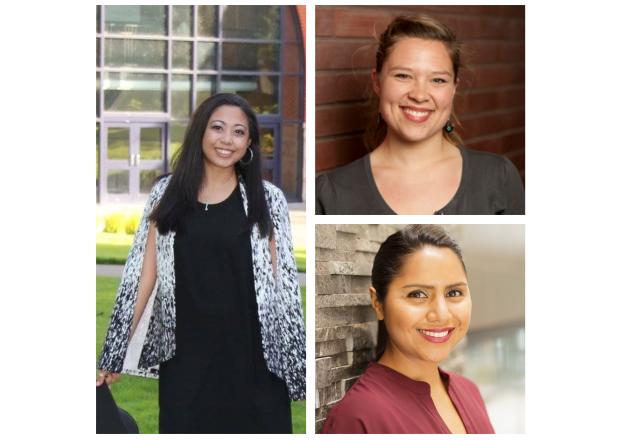 Cambia is among the top 150 worldwide honorees for the Mogul "Top 1,000 Companies Worldwide for Millennial Women Award", a global tech-based career recruitment platform. The Mogul award criteria included having a strong culture of diversity and inclusion and leadership, mentorship and advancement opportunities for millennial women, along with a workplace culture of work-life balance.
Millennial women have so much to offer the workplace and Cambia knows it. According to inc.com, "more than two-thirds of young women are in the workforce today, up from under 50 percent in 1975." Born in the early 80's to late 90's and also known as Gen Y, they care more about benefits like salary and growth opportunities than the perks of working around bean bag chairs and free lunches.
Cambia asked several millennial-women employees about their experiences and insights into their generation's workforce and how working at Cambia reflects their values by being part of a transformative force for good. Check out some of their stories. 
Mary Masla | Strategy Planning & Performance Consultant | 3 years  
Mary interned for the Cambia Internal Audit team during the summer of 2015 and was hired as an Internal Audit Associate. Since then, she has been promoted to Strategic Planning and Performance Consultant.
Why do you work at Cambia? Cambia's culture and work-life balance is a big reason why I work here. I appreciate Cambia's values of respecting that I am a whole person, not just an employee. I have a life outside of work too.
What's a misconception about millennials? We're operating in a professional world that is constantly changing and requires the soft skills of advocating for ourselves, which may be misconstrued as self-absorbed or entitled. 
What drew you to Cambia? Beyond the profit margin, Cambia leads by example, by improving the health of our communities and being a force for good. Among my generational peers there is a recognition and desire to do more than just serve ourselves. 
Danielle Susi | Sourcing Analyst in Strategic Sourcing | 2 years
Danielle started as an intern on the Cambia Procurement team in 2016 and, following her internship, was hired as a Sourcing Analyst in the Department of Strategic Sourcing.
Why do you work at Cambia? I started as a part-time intern and from the start, Cambia accommodated my school schedule. Now, as a full-time employee, and at the discretion of my supervisor, I have flexibility around my calendar for more work-life balance.   
What's a misconception about millennials? I often hear that we're lazy. The reality is we take non-traditional routes in our careers and life. I have friends with college degrees who are taking time off to travel, and others who are going back to school or starting a family. I hope we're seen as courageous and adaptive. 
What drew you to Cambia? Seeing women, people of color and people of all backgrounds in management positions is motivating! Cambia has cultivated a culture that recognizes their employees for their talent and skill. Cambia's values of hope, collaboration, and innovation also resonate strongly with me, because I know it means I get to participate in health care transformation every day.  
Cristabel Nichols, Brand Communications Specialist | 4 months | @Cris_ta_bel
Cristabel comes to Cambia from government and is excited to start transitioning into a career where creativity, problem-solving and initiative is rewarded.
Why do you work at Cambia? For me, it's important to have a light and a fire in my job that is driven by a bigger purpose. Cambia's Cause of serving as a catalyst to transform health care, spoke to me because I want to contribute towards making this a better world.
What's a misconception about millennials? It's been said that millennials don't choose to stay in jobs very long. The truth is my generation saw our parents lose their "safe" jobs in 2008 and we don't want to dedicate our lives towards the sole goal of a comfortable retirement that isn't certain. We have a strong work ethic and want our work to matter and be part of something meaningful.
What drew you to Cambia? I was impressed with how actively involved Cambia was in recruiting diverse candidates. From attending local events to hosting them, Cambia was serious about making a connection. Being compensated well was also important and Cambia's reputation among women-in-tech organizations in Portland.
I also admired how Cambia used its influence for good. Being the daughter of immigrants, I especially respected the CEO of Cambia, Mark Ganz joining more than 800+ CEOs in supporting the Dreamers or when he declared that separating families from their children at the border was immoral. I am proud to work for a company that stands with me and my values. 
Work for Cambia
At Cambia, we recognize that our team members not only contribute to the success of our organization but also assist in our goal of transforming health care from the inside out. We believe that diverse voices and perspectives drive innovation and the achievement of our Cause.
If you want to invest your skills and experience in an innovative, consumer-focused and ethical company, we encourage you to join the Cambia team.