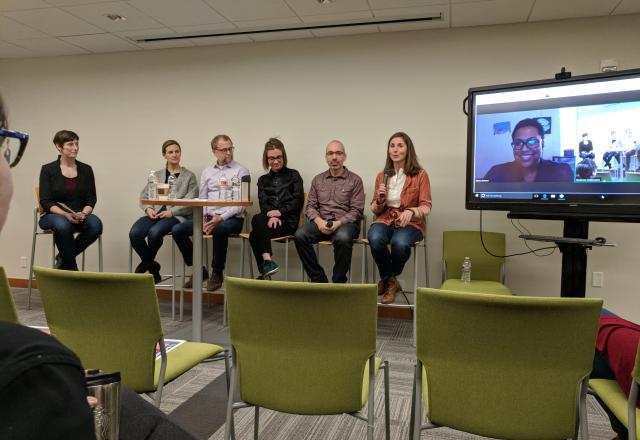 Women are breaking barriers in health tech where they make up nearly a quarter of the CEOs of digital health companies. More opportunities are on the horizon, with over 3.5 million computer-related jobs forecasted by 2026.
Companies that want to contribute towards those numbers, need to create cultures of acceptance and belonging, said Dan Anolik, Cambia Vice President of CCS Engineering.
Dan was part of a recent panel on Women in Tech hosted by Cambia's Women's Employee Leadership Lab (WELL). Guest Megan Bigelow, Co-founder and President of PDX Women in Tech (PDX-WIT), joined.
Creating Welcoming Workplaces for Women in Tech
The panel shared stories about working in tech and how they're helping to create a more equitable industry.
"Let's make sure we have a safe environment where everyone's opinions and different perspectives are heard and valued," said Dan. "Safety starts by listening so that everyone at the table has a chance to get that job, or make a better product," he concluded.
Addressing the gender and racial gaps in tech, Dijana Steward, Technical Project Manager at Cambia recommended recruiting more people and women of color. Adding that people within the organization also want to see more ethnic diversity and inclusivity at work.  
Inclusivity for Women of Color is Good for Business, Too
As U.S. demographics change, equity becomes even more important. The disparities among women of color melt into a greater gap—yet business requires an understanding of all consumers. "At Cambia, we're trying to build something we want all of America to use; this makes equity a critical issue," said Kirk Anderson, Vice President and Chief Tech Officer at Cambia. "We're drawing in talent that will help us reach our consumers."
Meg Dryer, Vice President of Consumer Experience at Cambia, added that designing products for consumers is about "developing true empathy -- not what I would want, but what they want." Diversity is central to the success of businesses, she said.
Women made up 26% of the computing workforce in 2017. Conversation is one way to lead change. We're grateful for the many employees who participated in today's panel on supporting women in tech at Cambia and in our communities. Thank you Megan Bigelow @PDXWiIT for joining us! pic.twitter.com/byY0I8G0CI

— Cambia Health (@Cambia) April 13, 2018
Mentorship and Sponsorships Help Women Stay in Tech
Creating a cultural movement where gender and race don't constitute a disqualification is something Megan from PDX-WIT said will require a collective commitment from both men and women. Sponsorship or mentorship programs are one way to build bridges, she said. "It's about finding someone willing to listen to you," she offered.
Pointing out an incentive for women to stay in their tech career, Megan said, "It's about knowing someone is standing in your corner helping you take the next step in your tech career."
The panel encouraged the audience to share stories of how they overcame barriers and succeeded as a way to help others who are just starting their tech careers.
Megan appealed to the women in the audience to tell their stories, "because it will open doors you never thought possible, and it will encourage others to not give up on their dreams."