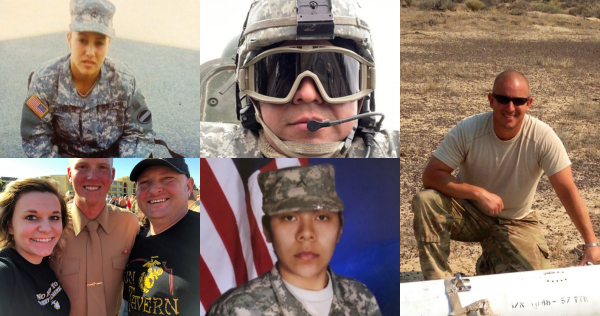 Cambia is honored to be named a Military Friendly® Employer for the seventh time since 2017. We appreciate being recognized for having a company culture that supports Veterans and military families. But more than that, we are grateful for our Veterans' service and the sacrifices they and their families have made.
In honor of Veterans Day, our Military Community Employee Resource Group (MCERG) hosted a virtual gathering. Cambia CEO Jared Short provided opening remarks and CNS Honor Salute Coordinator, Technical Sergeant Garry Bell, USAF (Ret) from Community Nursing Service to discuss their Honor Salute program that recognizes hospice patients who are Veterans.  
We also asked members of MCERG to reflect on the Military Friendly® Employer designation and their time at Cambia. 
Daniel Butler
Financial analyst
Served as a 13D - Advanced Field Artillery Tactical Data Systems Specialist.
"It feels good knowing I work for a company that supports Veterans. In my experience, there are a lot of companies that claim to be Military friendly but it's just lip service. When you ask them how many vets they employ, it's usually a minimal amount. I feel like a lot of companies use the term Military friendly just to look good. Cambia hires vets and has a Veteran's group that it promotes, which is a lot more than other companies."
Audrey Graham
Accounts receivable representative
Graham is a military spouse. 
"I love that Cambia is being named as a Military Friendly® Employer. I started working for Cambia as a contractor in 2019, then was brought on full-time in 2020. My husband received orders to South Korea, and so, unfortunately, I had to leave in 2022. However, when that tour ended, we received orders to Hill Air Force Base in Utah. The moment I found out I contacted my old supervisor. I was immediately able to be brought back on and work remotely from Utah with my old team. My supervisor is especially understanding as she has members of her family in the military as well. Being able to be part of a community that understands the stressors and unexpected hurdles of military life is crucial. It often requires a lot of grace and flexibility that is not well understood unless it has been personally experienced. I am so happy to be a part of a workplace that values and respects members of our armed forces and their families." 
Vanessa Gutierrez
BlueCard multi-service specialist
Served as 88M – transportation (mainly worked in the operations office)
"I appreciate working at Cambia and I enjoy being a member of our Military ERG."
Tiana Hernandez
Membership administrator
Served as a U.S. Army Reserve/Human Resource Specialist - 42A and is a military spouse.
"I feel proud and honored to be here. It [the Military Friendly recognition] reflects the organization's commitment to supporting our military community and providing an inclusive and welcoming environment. Knowing that our company values and appreciates the contributions of military personnel is something I greatly appreciate. I appreciate the flexibility and understanding of how chaotic things can be for military families. The support I have been shown during times when I felt alone is something I will always treasure. My team, my leadership, constantly checks on me when they know I am running ship as a solo parent, and I appreciate every single one of them for that."
Dan Lucas
Assistant director of IT operations
Served as U.S. Army signal intelligence analyst.
"I am very grateful to work for an employer that makes supporting Veterans a priority. The way that Cambia works to encourage Veterans to apply for Cambia jobs and works to simplify the process for Veterans."
Russell McDonald 
Incident response manager for IT security
Serves as a Chief Master Sergeant in the Washington Air National Guard. 
"I serve as the Senior Enlisted Leader at the 262nd Cyberspace Operations Squadron out of Joint Base Lewis-McChord. It makes me happy to hear that Cambia is being recognized as a Military Friendly® Employer as it validates my experience so far. My manager and HR rep have really bent over backward to accommodate my continued Air National Guard service. My responsibilities in the Guard draw me away from Cambia more often than is normal for a traditional Guardsman, but I've gotten nothing but support and accommodation from my team, management and the company. It isn't always easy trying to manage two careers, but I know my Cambia team will support me and that makes a big difference."
Vanessa VanLeuven
Membership administrator
She is a military spouse and parent. Her husband and son both served in the United States Marine Corps.
"I'm very proud that we meet the standard that measures an organization's commitment, effort and success [for Veterans]. As a military spouse and mother, I have always been supportive of our Veterans and have tried to give back to them as best I can. I started a coffee shop that revolves around Veterans and our first responders. I've been given many awards and recognized by the University of Idaho for all I do to support our Veterans. I love every opportunity to give back to our Veterans. Although the coffee shop is now under new ownership, I'm very proud of the heart, blood, sweat and tears I put into the business."
Scott Williams
Clinical services intake analyst
Served as a Master Sergeant in the U.S. Air Force EOD. 
"It's pretty nice to work at a company that has been continuously recognized as being Military Friendly®.  I have been associated with the military for pretty much my whole life. My dad and both my granddads were vets. Just having a group like the MCERG has been a good sign to me."