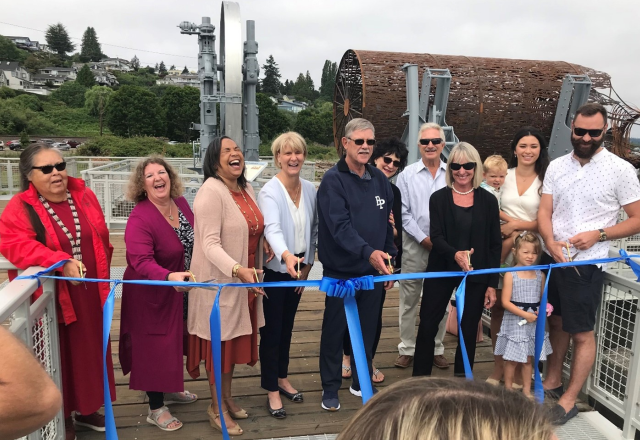 From left, Connie McCloud of the Puyallup Tribe; Metro Parks Tacoma Commissioner Andrea Smith; Tacoma Mayor Victoria Woodards; Market President Claire Verity; Skip Dickman; and other members of the Dickman family
Cambia Health Solutions leaders joined Metro Parks Tacoma officials and other community leaders this month for a celebration of the newly restored head saw and "Ghost Log" sculpture at Dickman Mill Park on the Tacoma waterfront.
The project dedication was many years in the making. Metro Parks Tacoma had long sought to restore the historic head saw from the Dickman Mill that operated at the site until 1977. And decades later, Cambia stepped in with the $2.9 million gift to make the project a reality.
Claire Verity, Washington market president, told the crowd at the July 10 dedication that the project was intended to honor the shared, intertwined history between the city of Tacoma, Cambia and the local timber industry. At the same time the Dickman Mill was one of the busiest mills on the Tacoma waterfront in the early 1900s, timber workers in the city founded one of the first employer-paid health insurance companies in the country, now part of Cambia.
"We are proud of the legacy we share with the city of Tacoma, and the storied past connected to the timber mills of this community. And like the city, we look forward to building on our legacy." -- Claire Verity, Washington Market President
Tacoma Mayor Victoria Woodards appreciated that Cambia isn't just one of Tacoma's oldest and largest employers, but that it invests in the community with projects like the expansion of Dickman Mill Park.
"What a great addition for our waterfront, and we know that it wouldn't have been possible without…Cambia and their commitment," Mayor Woodards said. "When (a company's) investment goes outside the four walls where they do business, when they see the value in this community, and the value that we can see today that (Cambia has) placed on Dickman Mill Park, we just want to say thank you so much for knowing how important this would be for our community."
Cambia leaders also connected with members of the Puyallup Tribe and the Dickman family at the dedication. (See more photos of the event here.)
"Generations will now be able to learn about the history of this land not just from the restored head saw reflecting so many decades of the Dickman Mill, but also the beautiful "Ghost Log" sculpture telling the story of the millworkers and the Puyallup Tribe who were here on this land long before all of us were here," Verity said in her remarks.