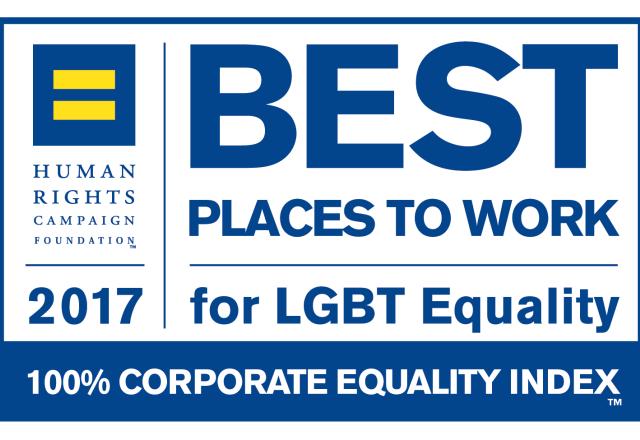 At Cambia, one of our core values is collaboration: we embrace diverse voices, experiences and perspectives to achieve more together. As a consumer-focused organization that serves diverse members and communities, we want to ensure our workforce is representative of that diversity.
Today, we are thrilled to announce that Cambia has achieved a perfect score of 100 points on the 2017 Corporate Equality Index, a national benchmarking survey administered by the Human Rights Campaign Foundation that scores organizations on their commitment to workplace equality for the lesbian, gay, bisexual and transgender (LGBT) community.
We're extremely proud of this distinction because it expresses Cambia's commitment to creating a diverse and inclusive work environment that recognizes the value of all employees. It's also a testament to the hard work of our employees and the progress we've made.
We asked employees of our PRIDE Employee Resource Group to share what this achievement means to them:
"Cambia has succeeded at being a safe, welcoming place of employment for a diverse group of individuals. I am proud of them and of my place here!" – Lisamarie Swan

"The Human Rights Campaign has been a leading advocate for inclusion and change. These results connect Cambia to those same efforts and align us with other champion organizations out there who recognize that we are working on equality together. Because we are stronger together." – Sebastian De Freitas

"A corporate culture that values diversity and inclusivity should be celebrated every day. Cambia's perfect score reflects the compassionate leadership and hard work of countless colleagues. It's exciting to envision how together we will build on this achievement to better serve all employees, our members and the larger community." – Ben Furr

"I just joined the group earlier in 2016 as I wanted to support the LGBT community, having a transgender son who is very active in his high school's QSA [Queer Student Alliance]. It means the world to work for a company who is so diverse and willing to donate time and resources to support our local LGBT communities." – Jen Craig

"An organization's ability to be competitive in the market is dependent on its ability to understand and speak to an increasingly diverse customer base. As a result, diversity and inclusion as a way of doing business is a core strategy. Cambia's participation in this workplace program is a shining example of this work and commitment. It gives me hope for our next 100 years." – Steve Lesky, Co-Chair, PRIDE Employee Resource Group
Last year, Cambia participated in the survey for the first time, scoring 90 out of 100 points. While this was a great score, we saw this as an opportunity to align against best practices from other leading companies and continue to improve as an organization. As a result, we made several improvements throughout the company in how we communicate to current and future employees.
We recognize that the work of diversity and inclusion is never complete. A score of 100 is something to celebrate, but it doesn't mean we're done improving.
What success looks like today may not be what it looks like in the future. While our score in the Corporate Equality Index may change from year to year, Cambia's commitment to diversity and inclusion remains steadfast.
Learn more: