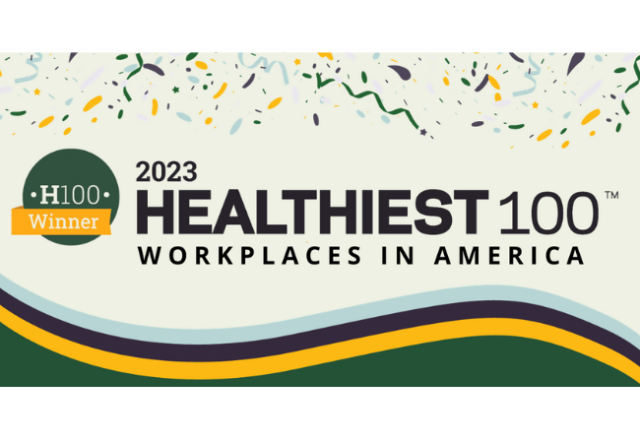 Cambia Health Solutions has been recognized among the 2023 Healthiest 100 Workplaces in America, an awards program created to honor people-first organizations that prioritize the well-being of their employees.
Cambia was recognized because of its commitment to workplace wellness and exceptional health and benefits offerings. Increased flexibility, work-life balance and mental health resources are common trends among Healthiest Employers honorees.
"We're proud to be recognized as one of the healthiest workplaces in America," said Elizabeth Cole, senior vice president and chief human resources officer. "A people-focused health care system starts by ensuring we prioritize the health and well-being of our own employees. At Cambia, we're strongly committed to creating programs focused on workplace wellness and meeting employee needs."
Each company included on the list participated in the Healthiest Employers application process. The categories, scoring and benchmarking were formed with the help of a national, non-biased group of representatives from the academic, medical, wellness and business communities. The Healthiest Employers assessment is scored 'Rubric style' on a 1-100 scale. The assessment comprises six categories of yes/no, multiple choice and short-answer questions, with each question totaling .25-3 points.
The six categories are as follows:
Culture and Leadership Commitment
Foundational Components
Strategic Planning
Communications and Marketing
Programming and Interventions
Reporting and Analytics
To qualify for the national award, applicants are also scored based on an additional section called "the Healthiest 100 Workplaces in America," which scores the applicant essays and asks additional questions related to chronic conditions and workplace health.
About Cambia Health Solutions
Cambia Health Solutions, headquartered in Portland, Oregon, is dedicated to transforming health care. We put people at the heart of everything we do as we work to make the health care system more economically sustainable and efficient for people and their families. Our company reaches millions of Americans nationwide, including more than 3.4 million people served by our regional health plans. To learn more about us, visit CambiaHealth.com or LinkedIn.com/Company/Cambia-Health-Solutions.
About Springbuk and Healthiest Employers®
Springbuk is a health intelligence software platform that empowers everyone in an employer's health ecosystem to glean actionable insights to improve their population's well-being and contain claims costs. Each year, Springbuk administers the Healthiest Employers® Awards Program across the country to honor the nation's most dedicated employers in bettering their worksite health and wellness programs. To date, over 10,000 employers across 40+ U.S. cities have participated in the awards program. Learn more at Springbuk.com. and HealthiestEmployers.com.