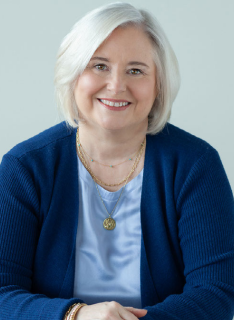 President of Cambia Health Foundation
As President of the Cambia Health Foundation, Peggy Maguire connects the philanthropic dollars of Cambia Health Solutions to communities through non-profit partnerships.
Peggy leads all of Cambia's philanthropic programs and activities, including strategic grantmaking, convening partners to address shared challenges, and engaging employees in giving and volunteerism. Dedicated to responsible stewardship, Peggy's team purposefully invests in underserved communities in Washington, Oregon, Utah and Idaho to advance equity through whole person health.
Founded in 2007, the Foundation has funded more than $110M in grants to advance person-focused and economically sustainable healthcare. This includes a significant investment in the nationally recognized Sojourns® Scholarship Leadership Program supporting the next generation of palliative care leaders with the goal of improving the care of people with serious illness and supporting their caregivers. 
After examining its role as a corporate philanthropist in a world forever changed by COVID-19, the Foundation recently released its new strategic plan to focus on local partnerships that expand access to behavioral health within whole person health models by investing in the paid and unpaid health care workforce, fostering resilient children and families and promoting healthy and connected aging for older adults. The new vision builds upon the Foundation's work in palliative care and is aligned with the cause of Cambia Health Solutions.  
In 1997, Peggy joined the company as an associate general counsel and has held several posts including chief of staff to the prior CEO, vice president of legal services, director of litigation & enterprise risk management, as well as leadership roles in ethics, compliance and palliative care solutions. Previously, Peggy worked as an attorney at Garvey Schubert & Barer. 
Peggy serves on the national board of Friends of the Children and the regional board of the American Heart Association for the Western States Region. She is the vice chair of the Grantmakers in Aging board and co-chair of the Roundtable on Quality of Care for People with Serious Illness, which is part of the National Academy of Sciences, Engineering and Medicine. Peggy received her bachelor's degree from Lawrence University and her law degree from Northwestern School of Law of Lewis and Clark College. She has also completed the Stanford Executive Program and is a member of the Stanford Graduate School of Business Alumni Association.