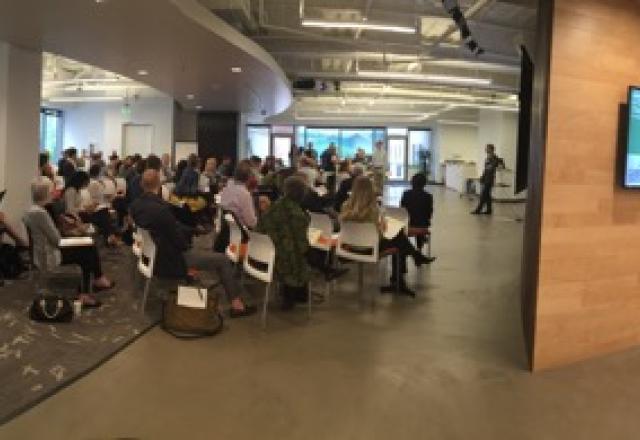 Transparency is a hot topic for the health care industry, which is evolving to empower consumers with better visibility and decision-making around their health care experiences.
Not surprisingly, transparency is also where the conversation began at the first UW Palliative Care Quality Measurement Summit at the Cambia Grove in Seattle on May 15, 2015. "Part of transparency is about starting with a community process. That's what our Summit is about – to create that community to improve palliative care," said Dr. Scott Ramsey of the Hutchinson Institute for Cancer Outcomes Research (HICOR).
UW Medicine's Dr. Randy Curtis, who spoke about the importance of integrating data on palliative care treatment with patient electronic records, agreed: "We want to get to a place where we improve what is in the record so we can really understand people's experiences."
Payers, Providers, Tech Start-ups, Patients, Caregivers, and Patient Advocates
The goal of the first-of-its-kind Summit was to bring a multi-disciplinary group of stakeholders and voices together to identify quality metrics that will improve palliative care across both specialty and primary areas of practice, while also taking into account the social, psychological, spiritual and cultural perspectives of palliative care.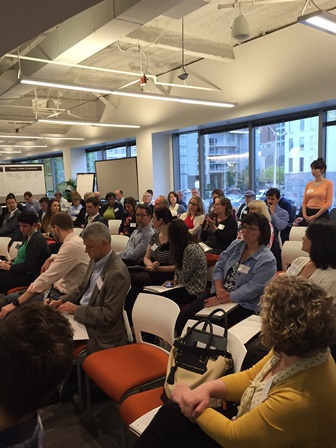 A third of the attendees actually were patients with a serious illness, cancer survivors, and caregivers. The group of stakeholders involved lent myriad perspectives to how data can be operationalized to capture and improve patient and family experience. Bringing patient and advocate voices to the conversation demonstrated that innovation can only truly be complete through partnership—with business, with health systems, and especially with patients.
A Fred Hutch News Service article after the Summit, Patients take a starring role to define, shape palliative care, shared the experiences and feedback from patient representatives.
A Common Definition of Palliative Care
The Summit kicked off with a shared definition of palliative care: Specialized medical care for people with serious illnesses – focused on providing relief from symptoms, pain and stress of a serious illness, whatever the diagnosis, with the goal of improving quality of life for the patient and family.
According to UW Medicine's Curtis, "One of the major advances of palliative care is to adopt this broader definition."
From Seattle's leading health care providers and health plans to patients with serious illness and entrepreneurs focused on palliative care, more than 100 people took part in the Summit discussion. Health plan experts included representatives from Regence, Kaiser Permanente Southern CA and HMSA in Hawaii. The nearly 10 startups in attendance came from as far away as New York and Philadelphia and as close as Seattle to offer new, innovative perspectives on the topic.
During the daylong event, palliative care stakeholders were asked to:
Identify high-priority quality indicators for palliative care
Develop opportunities for ongoing knowledge sharing and collaboration
Discuss the current state of palliative care quality measurements in the NW region
Review preliminary results of metrics for palliative care
Identify opportunities to improve palliative care
One participant suggested that in addition to disease registries, patient records and insurance claims, there is an enormous amount of information about patient experiences in social media. "How we access that data is another question, but the data exists. It's here and we need to learn what we can do with it."
Another participant emphasized the importance of patient and family experiences, saying "There's a third source of data we don't have – patients' voices."
Experts agreed that to fully understand the palliative care experience and deliver quality care, new approaches and measurements need to be considered.
At the end of the day, hosts from the University of Washington's Cambia Palliative Care Center of Excellence (Cambia PCCE) and the Hutchinson Institute for Cancer Outcomes Research (HICOR) vowed to convene a second-annual Summit to continue the conversation. Cambia Health Solutions and Cambia Health Foundation joined this year's sponsors in making the Summit possible.