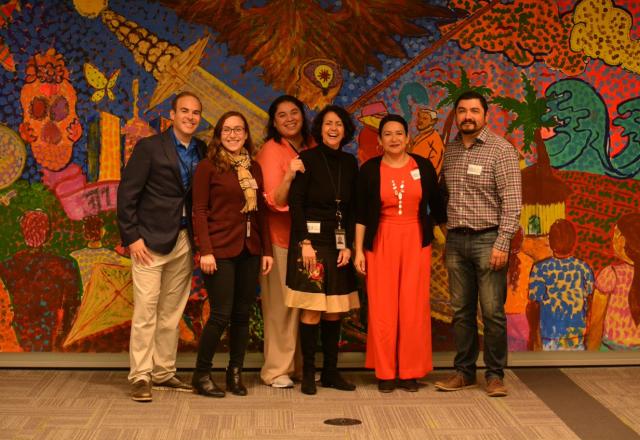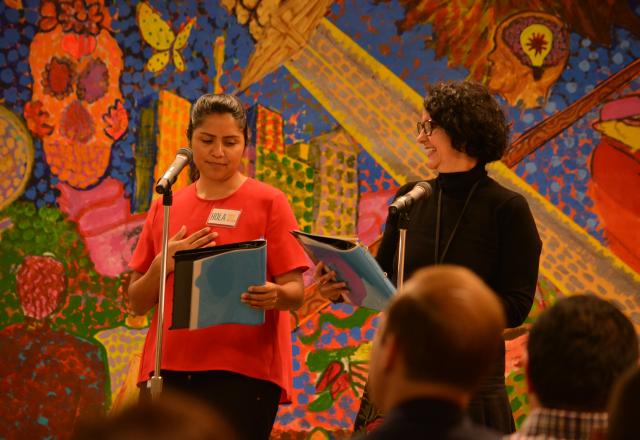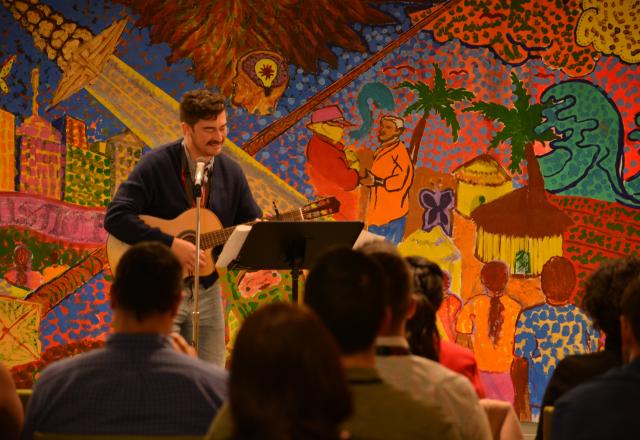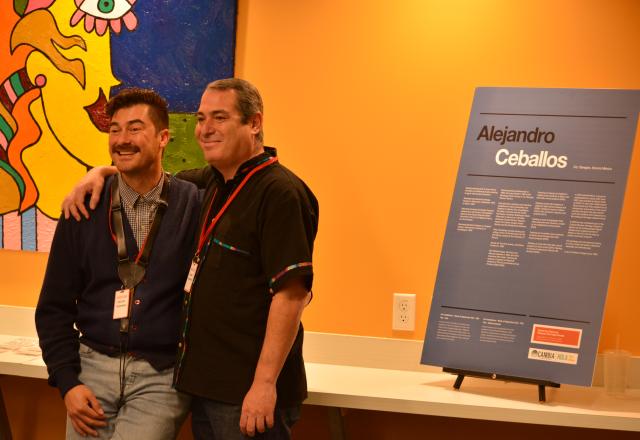 By Omar Amezquita, Manager of Data Solutions, Provider Partnership Innovation at Cambia Health Solutions
National Hispanic Heritage Month runs from September 15 to October 15, celebrating the contributions of Hispanic and Latino Americans to the country's history, heritage and culture. In honor of this month, Omar Amezquita, the Co-Chair of our Employee Resource Group, HOLA (Home of Latinxs and Allies), shares in his own words the meaningful impact of Cambia's employee celebration of cultural diversity and Latinx impact.
Walking into our Woolworth building, my heart swelled seeing the hanging of a mural that would play the backdrop in a celebration of Latinx art, culture and contribution to the USA.  As a Co-Chair of the HOLA ERG (Home of Latinxs and Allies employee resource group) at Cambia Health Solutions, I had the privilege to emcee the event, "Expressions of Culture through the Arts," in celebration of National Hispanic Heritage Month. The event culminated HOLA's monthlong celebration in our offices across Idaho, Utah, Washington and Oregon. I couldn't be more excited to share the richness and diversity of the Latinx culture with my colleagues through this event.
Cambia VP of Consumer Obsession and HOLA Executive Sponsor, Dee Cruz, kicked off our event by stating, "today is about community and celebrating Latinx Culture through art. Latinx culture is broad, expansive and draws from our Indigenous, African and European ancestry – and we're excited to share that with you today." In our program we sought to represent that diversity by featuring poetry, performance and visual art pieces that spanned across time and place in Latinx culture, from indigenous dance by Ollin Yolitzli to the heartfelt story of growing up Mexican-American in a small Oregon town, performed through poetry and song by Joaquin Lopez. The mural, our stage's backdrop, mixes scenes of ancient temples with modern cities and the indigenous art with the European and African influences that would later shape Latinx culture. 
Ultimately, HOLA sought to let the art speak for the diverse cultures that make up Latinx/Hispanic voice in America, allowing each attendee, in-person and virtual, the opportunity to take it in from the perspective they bring, whether deeply invested personally or openly curious to learn about a different culture. In our efforts to inform the "person-focused" part of the Cambia Cause, it was important to host this cultural experience to remind us and challenge us to see each person for who they are and how they see themselves. 
In my own effort to meet our Cause, I hold close to an old Mexican proverb I learned from my immigrant mother, "Ojos que no ven, corazón que no siente" meaning "eyes that don't see, lead to a heart that doesn't feel." I'm proud to have taken part in a monthlong celebration reminding us to keep our eyes and hearts open to our community's power to refill them.
Watch: Cambia's Celebrate Hispanic Heritage Month