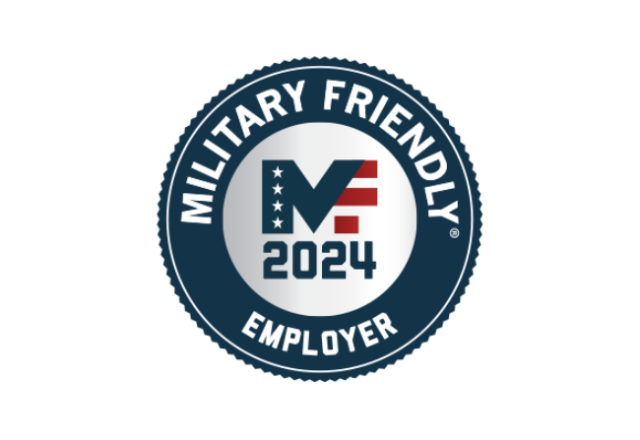 Portland, Ore.— Cambia Health Solutions announced today that it has earned the 2024 Military Friendly® Employer designation. This is the seventh time Cambia has received this honor. In addition, Cambia was designated a 2024 Military Spouse Friendly® Employer. Cambia received these recognitions based on its recruitment, employee retention and advancement, and an overall workplace culture that welcomes and supports veterans and their families.
Institutions earning the Military Friendly® Employer designation were evaluated using both public data sources and responses from a proprietary survey. More than 1,200 companies participated in the 2024 Military Friendly® survey. Cambia received the silver-level designation this year, awarded to only a select group of companies.
"A great company starts with great people. Veterans and military spouses bring a strong work ethic, adaptability and teamwork to Cambia, and that benefits the entire company," said Jared Short, Cambia president and CEO. "We are honored to be named a Military Friendly® Employer, but more importantly, we want our veteran and military spouse employees to know how much we appreciate their contributions to Cambia and the impact they have on our members every day."
Methodology, criteria, and weightings were determined by VIQTORY with input from the Military Friendly® Advisory Council of independent leaders in the military recruitment community. 
"Organizations earning the Military Friendly® Employers designation have wholeheartedly invested in comprehensive and impactful initiatives that bring about positive, life-changing results for our valued service members, dedicated military spouses and esteemed veterans within their ranks," said Kayla Lopez, senior director of military partnerships at Military Friendly®. "We salute these exemplary employers who raise the bar and understand that hiring military personnel is not merely an act of goodwill but a testament to a standard that truly embodies sound business wisdom. Their steadfast commitment to integrating military personnel into their workforce not only reflects their compassion but also underscores their business acumen."
From software developer to customer service professional, Cambia has roles that align well with military work experience. We encourage interested candidates to visit our Veterans page, where you will find a link to a military skills translator tool that helps you determine which civilian jobs match your skill set. For information about benefits and job openings, visit our Careers page. 
About Cambia Health Solutions
Cambia Health Solutions, headquartered in Portland, Oregon, is dedicated to transforming health care. We put people at the heart of everything we do as we work to make the health care system more economically sustainable and efficient for people and their families. Our company reaches millions of Americans nationwide, including more than 3.4 million people served by our regional health plans. To learn more about us, visit CambiaHealth.com or LinkedIn.com/Company/Cambia-Health-Solutions.
About Military Friendly ® Employers
Military Friendly® is the standard that measures an organization's commitment, effort, and success in creating sustainable and meaningful benefits for the military community. Over 2,100 organizations compete annually for Military Friendly® designation annually. Military Friendly® ratings are owned by Viqtory, Inc., a service-disabled, veteran-owned small business. Viqtory is not affiliated with or endorsed by the U.S. Department of Defense or the federal government. Results are produced via a rules-based algorithm. The data-driven Military Friendly® lists and methodology can be found at https://www.militaryfriendly.com/mfcguide.
About VIQTORY
Founded in 2001, VIQTORY is a service-disabled, veteran-owned small business (SDVOSB) that connects the military community to civilian employment, educational and entrepreneurial opportunities through its owned assets such as Military Spouse Magazine®, Vetrepreneur®, G.I. Jobs ® and Military Friendly® brands. VIQTORY and its brands are not a part of or endorsed by the U.S. Dept of Defense or any federal government entity. Learn more about VIQTORY at Viqtory.com.