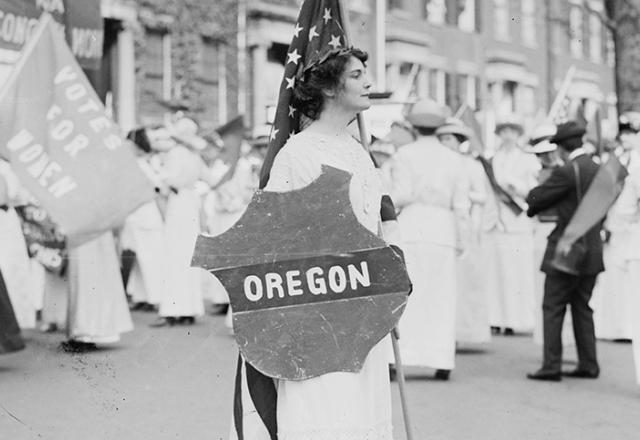 The year 2020 marks a new decade that has brought forward challenges, important dialogue, and the beginnings of a cultural shift. It also marks another major milestone in history: the centennial of the 19th Amendment's ratification, granting women the right to vote.
Cambia Health Solutions is proud to commemorate the brave activists that advocated for women's suffrage over hundred years later, by sponsoring a new exhibit on display at the Oregon Historical Society : Nevertheless, They Persisted: The Nineteenth Amendment and Women's Voting Rights.
A Community Health Care Innovator: Meet Dr. Esther Lovejoy
Trailblazing stories from women like Portland's own Dr. Esther Pohl Lovejoy are front-and-center at the Oregon Historical Society's exhibit, which will run through August 15, 2021. Touted as the first female health officer of a major city, Dr. Lovejoy took an active and significant role in the local woman's suffrage movement in the early 20th century.
An early advocate in a time when community health was in its infancy, Dr. Lovejoy reflects the same pioneering spirit that led Cambia to transform the health care industry over 100 years ago. Cambia is proud to sponsor Dr. Lovejoy's profile, on display at the exhibit.
The first woman to graduate from the University of Oregon Medical School, Lovejoy was appointed to Portland's city health board in 1905 and served as the city health officer from 1907-1909. With a belief that healthy communities were the responsibility of the people and their government, she helped prevent a bubonic plague outbreak from hitting Portland in 1907. While working for Oregon's suffrage campaigns in 1906 and 1912, she emphasized the need for women to vote in order to make their homes and cities healthier places to live and work.
Lovejoy was born in a Washington lumber camp in 1869 and became a champion for community health and a leader in health care innovation. Nearly fifty years after her birth, Cambia Health Solutions was founded by Washington timber workers on the belief of helping each other in times of need.
Nevertheless, They Persisted exhibit now open
Join Cambia Health Solutions in celebrating Dr. Lovejoy and the many other women who put in the work necessary to ratify the Nineteenth Amendment 100 years ago.
The Oregon Historical Society is now open to the public. Following guidance from the Oregon Health Authority, the Oregon Historical Society has implemented protocols to keep staff and visitors safe. Face coverings are required, and visitors are expected to maintain a safe social distance from others. 
Visitors can explore this historic exhibit during the museum's revised hours of operation: 
•    Wednesday – Saturday: 10a – 5p
•    Sunday: 12p-5p
Admission is free for OHS members and Multnomah County residents. More information about the exhibit can be found on the Oregon Historical Society's website.