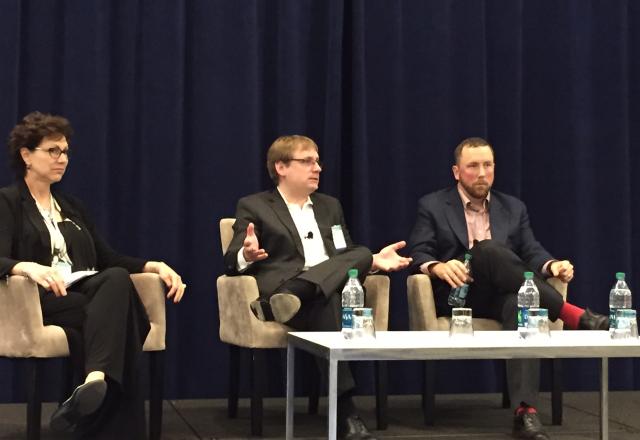 "Innovation isn't something that happens in 'another building,' Cambia's Rob Coppedge told a filled room at AHIP Institute 2015 in Nashville. "It's embedded into our values across the company."
During the AHIP panel "New Economy: Innovation and Inspiration in Health Care," Rob, who heads up Strategic Investing at Cambia, told the packed room that the health care industry needs to change its underlying business models to solve real consumer problems. He shared how Cambia was founded nearly 100 years ago by loggers in the Pacific Northwest who  didn't set out to establish a health plan; they wanted to solve a problem – how to care for fellow timber workers in the event of injury or sickness. These timber workers were the original consumers of health care, Rob said.
Building on the company's health plan legacy, today Cambia is working to transform health care by investing in or building solutions that will delight the health care consumer in ways that haven't been possible before – price transparency, online shopping, independence for seniors, and improved provider-patient engagement, among others. Guided by Cambia's Cause, that spirit of innovation embedded into the company's culture led us to open the Cambia Grove in March as a space for the health care industry to convene, catalyze and identify - a place where industry players can come together and innovate solutions for tomorrow's health care consumer.
It's this focus on innovation that enables Cambia to create a better consumer experience based on the needs of tomorrow's consumer, he said.
Rob emphasized to the audience of AHIP health executives that we can't do it alone, saying, "It will take systemic change by companies that make up the fabric of the health care industry." And he added, "We want to change the game for entrepreneurs and investors like we are for consumers, creating an overhaul as dramatic as the transformation of the health care system."
To learn more about some of the innovative companies Cambia is investing in, watch our video interview with Rob Coppedge.