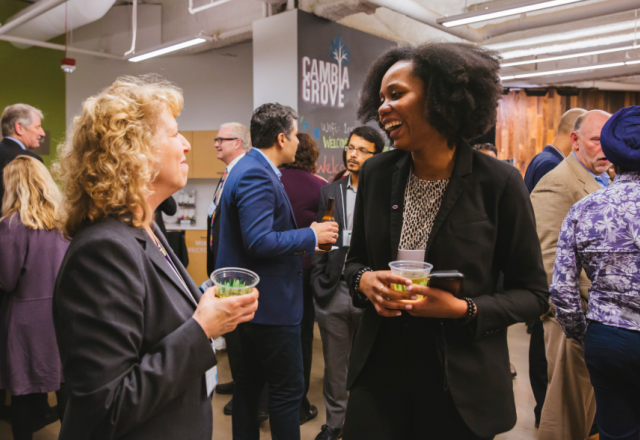 Cambia Grove, Cambia's health care innovation hub, connects like-minded changemakers in health care to catalyze tomorrow's innovative health solutions. Kicking off 2021, Cambia Grove continues to advance an economically sustainable and person-focused health care sector through newly released reports and sharing lightbulb moments from community events. Stay tuned for a follow-up blog detailing the first year of the hub's membership platform, and other upcoming opportunities for health innovators to engage.
Actionable Reports
Innovation Advancement Framework
Recently Cambia Grove's Executive Director Maura Little launched the Health Care Innovation Advancement Framework at HLTH to better align innovation with its greatest potential for impact, not profitability. The framework tracks toward lowering per capita cost, improving patient experiences and improving population health by examining the incentives, infrastructure and culture that shape the development of new solutions.
Health Care Innovation Landscape Reports – Oregon, Washington and Utah
Building on the groundwork laid by the Health Care Innovation Advancement Framework, Cambia Grove and Point B conducted extensive research with governors, economic offices and community partners to galvanize health care innovation in each region.
"This report serves as example of our resolve to ask more and do more to ensure that health innovation meets the challenges facing the improvement of population health, cost control and bettering patient care." - Washington Governor Jay Inslee
The Oregon, Washington and Utah Health Care Innovation Landscape reports outline specific calls to action by state, ranging from improving rural broadband access for virtual solutions to provider and policymaker representation that more equitably reflects the diversity of each community.
Lightbulb Moments
Incentivizing Health Hackathon
Cambia Grove also recently hosted a virtual hack-a-thon that challenged attendees to think through alternative care and payment models capable of considering social drivers of health, equity, inclusion and more. The winning solution from 1Upstream Health gamified the health care experience for young adults to encourage solid health literacy earlier in life.
5 Points of Health Care Conference
This year's 5 Points of Health Care Conference discussed health care's rapid pivot during the pandemic to improve population health without risking COVID-19 exposure or a premature economic reopening with representatives of each stakeholder in health care. Provider representative Juan Aragon, MD, Director of Business Development at EvergreenHealth, affirmed that the past year actualized many of the virtual care changes that health care leaders have been striving towards for decades. Meanwhile, payer representative Marion Couch, MD, Chief Medical Officer of Cambia Health Solutions, shared her belief that fragmented care is rooted in fee-for-service payment models and advised stakeholders to move toward a holistic, needs-based approach capable of giving consumers a voice in their own care. 
Startup Competitions
The champion of Cambia Grove's most recent palliative-care focused TRAILS Competition continues to gain traction for its solution. Community Collaboratory enables a unique approach to palliative care by connecting physically disabled adults with safe and flexible community-based social support resources, and was recently recognized by the 2021 University of Washington Holloman Health Innovation Challenge for Best Idea in Digital Health.