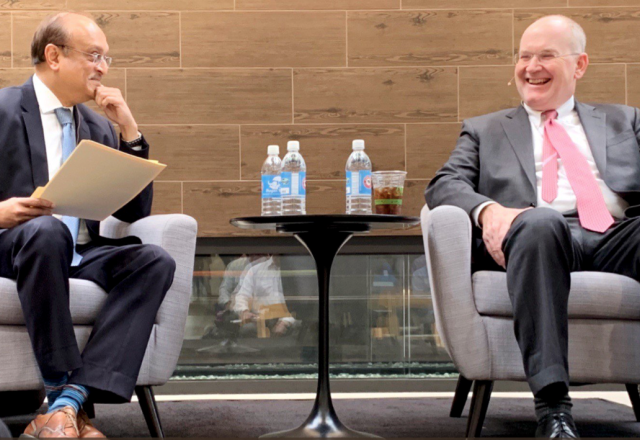 Welcome to Episode 1 of our New Special Edition Series of the HealthChangers Podcast – Powered by Innovation Force. This segment is brought to you by Cambia Health Solutions.
In HealthChangers, Powered by Innovation Force, Cambia's Chief Innovation Officer and SVP, Mohan Nair, sits down with industry leaders and influencers to explore the real stories behind health care innovation and transformation. You'll hear thought leaders share their motivation for changing the way consumers experience health care and learn about the challenges they've faced. This episode was recorded live at a fireside chat in Portland, OR, hosted by the Cambia Grove.
Mohan Nair (MN): Hi, I'm Mohan Nair. This is about transformation. The health care system as we know today is unsustainable. We know that much has been attempted to transform the system, but there is still much to accomplish. Welcome to the HealthChangers Podcast, brought to you by Innovation Force of Cambia Health Solutions. The world does not need another podcast, but the world needs thought provoking action, inspiring messages and dialogue. My hope with this podcast series is to inspire ideas and to inspire action. Of course, we all believe in the cause of transforming health care to be more person-focused and family-focused rather than institutional. To be economically sustainable for families, not just for the systems that support families. And most of all, to reach the potential it is so capable of achieving but has yet to complete the promise. Each podcast will bring a view of the challenges and the courageous individuals and teams who strive to achieve the consumer-focused solutions we much desire.
First, we know that neither experts nor amateurs exist in this field of health care. People purport to be experts or people begin to be amateurs, but everyone has to participate. We are in the practice of our purpose. So join us in this pursuit. One thing that defines this podcast over others is that we really curate and choose people who inspire not just courage, but also humility in change. The combination of the courage to act and the humility to believe that they can serve to change is the power that brings this podcast character. I hope that we can explore both the breakthroughs as well as the breakdowns in the systems that we have been working on and the human breakdowns and breakthroughs which are just as important. I asked that you give this a listen. Give it a second thought and give yourself the courage to make the difference.
I hope that we can discover together, inspire each other together, and find the courage within us to act. This first episode is a conversation with Dr. Don Rucker, the National Coordinator for Health Information Technology for the ONC. ONC stands for the Office of the National Coordinator for Health Information Technology. We discuss how the government is working to increase interoperability below and above the line that we draw as the possible. Through the 21st Century Cures Act, Dr Rucker will speak about and discuss with me about what ONC and CMS, the centers for Medicare and Medicaid services seek to expand and give the consumer access to their health information and to health information in general. Through this dialogue, I hope you feel the inspiration, you feel the courage and you feel the opportunity available to you to impact the health care system with us. I hope you discover that inspiration. I hope you find the courage within you, but most of all I hope you find the power to act.
Dr. Don Rucker: The Person, The Purpose, The Predictions
MN: I would like to start with the person and then we'll go to the purpose of your role and then move to predictions and also think about how you're going to make things happen in  the role you have. So, if we could go through those three Ps today, it'll be fun. I'm not going to start with the person and go to the purpose and go to predictions, because that would be boring for you. How did you come upon this federal role?
Dr. Don Rucker (DR): The immediate answer of course is I've spent time in the DC lobbying arena and could reach out to people and say, "Hey, can you get my CV in front of the people who are deciding?" I mean that's the immediate answer. The real answer is frankly a little bit different. I like many people in school had some vision of what I wanted to do in the world.
DR: When I got to med school, I realized immediately that American health care was, we're talking now in 1977, sort of crazy, inefficient, and random. It wasn't a finely tuned machine. There was excellence in care in certain ways, not in others. So, that got me thinking about, "Hmm, I wonder what could be done here, right?" That didn't seem to really be a good deal for the public even then and things were way less expensive than they are now. It didn't seem that it was even vaguely optimized. So, then I was thinking, "Well, sugar plum fairies, well what could I do?"
That's the long answer of how I got into this, but the themes were always the same, which is to empower consumers to get a better deal on health care.
I lit on the concept of decision trees. There were a couple of us who were excited by the vision of using knowledge to really change American medicine. So, I thought, building decision trees and doing the right thing, it would all be really simple. I went to residency and was disappointed to find that the problem back when there was very little supervision was that you were ultimately for better or worse, it. So, you felt a pretty big burden to the patients to be on you're A-game. You realized the problem is not lack of decision trees, the problem is total lack of data.
I mean, I'll give you one example. This was not an act of courage because at that point I already decided I wanted to learn computer science and had gotten into both Stanford's Medical Computing Program and their business school. At UCSD, even as late as 1984 I think it's changed, but every microbiology culture in the 500-bed hospital were handwritten. Yeah, early 80s, not that big a deal. They were put on photocopy green paper unalphabetized.
Every urinalysis, inpatient, outpatient, every Swan tip, every blood culture.  Every day the house staff had to read through five pages of random handwritten results to see if their patient might've had a culture result. Mind you, because it's a team thing, you're not on 7 by 24, you don't necessarily know. Somebody else may have sent this off. This was stunningly inefficient and obviously we didn't really need computers per se to start with. I wrote Helen Ranney, who was a wonderful chair of medicine. I said, "Dear Dr. Ranney, I just want to point out these microbiology culture results are ... they're just random. I'm not asking for computers. Obviously eventually, this will be done with computers, but I think the alphabet is a proven technology. We've been using this for 2,000 years and I think it's time to try it here."
I then got interested in data and worked on building the first Windows Electronic Medical Record (EMR). That's the long answer of how I got into this, but the themes are always really the same, which is to empower consumers to get a better deal on health care. That has been my goal since I was a first-year med student to get health care back into a market economy, to have all of the benefits of a competitive market and the responsibility and the opportunities and the innovation. This is just a step on the way.
The Dichotomy of Patient Data Ownership
MN: Now, let's talk about your principles, not from the perspective of what are they and you list five of them. It's your living principles I'm most interested in. Number one, do you believe that data is the right of the patient or the individual or do you believe the institutions that have sort of stored that data or created that data have a right to that? This is a dichotomous question. There's always something in between. Can you respond to that principle?
DR: I think the root principle really goes back to enlightenment philosophers that we have human inalienable rights, right? The real issue is, how do we be engaged and control of our lives? Of course, that means responsibility. We haven't had that in health care. We've been made very, very passive in American medicine, right? It's always somebody doing something for us. We're told we can't understand it. I get, "Oh, the patients can't understand this. They can't possibly understand this." I disagree. Yes, they can. We understand complex things all the time, and frankly, each of us can understand it in a way that makes sense for us because that's what a consumer economy is all about.
We're told we can't understand it. I get, "Oh, the patients can't understand this. They can't possibly understand this." I disagree. Yes, they can.
Now, we haven't had it because of the vagaries of history of our payment system in America. So, the question is, how do we bring that back. The exciting thing, if you believe that, is that Congress in December 2016 passed the 21st Century Cures Act. It was voted in favor; I think something like 392 or 394 members in the house out of 435 and I think 92 senators out of 100 and signed by President Obama. I absolutely assure you that the Trump administration and the White House Secretary Azar are very much working on the things that we need to do for patient empowerment. So, it was a fascinating backdrop and Congress had somehow figured out how to get our medical data on our smart phones. So, I think as a country from a technology point of view, you have a pretty sound legal framework.
Now, as you might imagine, there's lots of parties, lots of interests, lots of business interests. The technical is moving rapidly underneath. Many of you here are trying to make that movement even faster, everybody here, arguably. So, ONC found itself or was required to really put all of this into a regulatory framework. I think we're in a good position. We have a big proposed rule out at the CMS on that. You can see some summary sheets and some of the highlights on healthit.gov. I think we're in a pretty good position to actually start empowering the public and rethinking some of these things.
Breaking Prejudices to Empower Better Health Care Consumers
MN: That's very exciting. The fact that the regulatory framework is now aligned with the consumer framework that we want to create and that's the power of this. So, let's talk about that in terms of implementation. That seems like your purpose. It seems like that's what you want. You want to enable consumers. You want to break the prejudice that consumers cannot handle their own data. You want to enable the technology to kind of speed up that process. In title four of the 21st Century Cures Act, were proposed implementations. One was patient access.
The other I find interesting was info blocking, information blocking, new conditions for certification and then of course everyone's favorite, the role of application programming interfaces (APIs). Everyone wants an API, right? So, let's talk about info blocking. Let's talk about what that means to you and what you really want to enable by disenabling info blocking and how you perceive info blocking to be existing today.
DR: Yeah. The concept of information blocking really reflects that a lot of people have come through Washington and said, "I can't get my data." Frankly, a lot of this has been driven by the entrepreneurial community that said legacy EMR vendors won't give me my data. I can't do a new business because this is actively blocked." Title IV was very explicit about these things. This is not like little ifs and ands. It's just there shall not be information blocking.
We want to have a consumer experience for the American public that puts you in charge of your life and your health care and to be able to use modern technology.
DR: And, there are penalties. So, the concept is largely that the vendors and their provider clients somehow never get around to allowing the data to be shared in any way, shape, manner or form. Congress said, no more. This patient belongs to us as patients and we want the empowerment of actually having modern computing and modern analytics and modern uses of this data. So, just stop it and put in the couple things there. The provisions cover certified EMR vendors. So, it doesn't have anything to do with app developers should be pointed out. This is really only EHR vendors who are part of that HIPAA provider covered entity business associate world for those of you who know that legal construct.MN: And, there will be penalties.
Once a patient downloads the data, it is outside of HIPAA and a totally different world. Networks and exchanges. Now networks and exchanges were loosely defined, which means that ONC and the mall of Washington politics has to decide who isn't a network and then providers. For the first three, there's up to a million-dollar fine per event, but of course, what an event is was left undefined. I mean, what's the smallest type of  event? It's a bit, right? Eight bits to a bite, a couple of bites to a character depending on your character and coding.
Millions can add up pretty quickly depending on how you define it. For those of you who are clinicians, is that the MCV on the size of a cell? Is it the hemoglobin and hematocrit? Is it CBC? So, this has gotten people's attention. The penalties for providers are to be determined by the secretary. We're working on that. We're charged with having allowable exceptions. So, we have some exceptions. If there's some innate obvious hazard or some innate patient danger or some clear security issue. Then we also have some provisions on allowable prices in there. Because, what we've heard from the entrepreneurial community is, well vendor A or B will say it's open, but then they want to charge a million dollars for this restful API to do a data download. Well, that's not open, right?
So, we're requiring that the charges be cost reasonably incurred and that the intellectual property is licensed on a reasonable and non-discriminatory basis, so called RAND licensing criteria. So, that's part of the surround you have to do to make this real. It being politics, the people who don't want to share data, they're not at this stage with what I've just described to you going to be in the position to say, "I don't want to share." So, the arguments will be once removed, it'll be it's too dangerous for the public. I'm worried about Cambridge Analytica. I'm worried about privacy and security." All kinds of things are going to be conflated in to make the argument.
Look, there are certainly things for us as a country to ponder on secondary use of data. Not denying that, but it would be helpful if we had an honest conversation about the business practices and the real security and privacy risks rather than just saying, "Oh no, I'm not going to share data with patients." We want patients to be able to shop for their care, take their chart, move it to another provider if they don't like the provider. We want to have a consumer experience for the American public that puts you in charge of your life and your health care and to be able to use modern technology, which in 2019 and 2021 and 2022 means getting your chart on your smart phone and having control of it and being able to do it and send it to you and having the benefit of all the app economy that might have new creative things.
Bringing Back Market Economies into Health Care
MN: So, if you want to bring market economies into health care and you want to bring it to a place where someone shops like they shop for something else, what do you think is left besides the sharing of the data to drag this economy back to its normalcy that has not happened all these years?
DR: Yeah. Well, that's the three and a half trillion-dollar question. In health care, the insurance component, right? The original thing has now been layered with all of these sort of consumer proxy purchasing mechanisms. I think what you have to do in a notional sense is unwind these consumer proxy purchasing mechanisms and think consciously, as you guys are doing in a very put your money where your mouth is kind of way, on how do we get that consumer control back, and the root of that, I think it at least lets me get through my day and do my job without too much existential angst, is price and product transparency.
I believe when product transparency comes, one way or the other, price will be quick to follow after that just because of the nature of the world.
Now price is probably going to take a little longer. That's a little harder. It's a much discussed thing in Washington as we speak, but certainly the product transparency, we have all the regulatory authority I think we need under 21st Century Cures to actually make that. I believe when product transparency comes, one way or the other, price will be quick to follow after that just because of the nature of the world.
Imagine Amazon where you didn't know what the price of a product was and you didn't exactly know what the product was. It was just sort of grayed out, a little bit of an outline of what the product was. That's where we are in health care. We need to get that information back. Then some of the things like how the perverse incentives of having pretax payments for insurance have distorted this economy need to get rethought. You probably need to rethink some of the exact nature of high-deductible health plans because a lot of the spend is after you reach your deductible by sicker patients. So, there are people that we most want to have consumer control, right? The sickest amongst us who have chronic illnesses that require ongoing care. They're still largely totally disempowered and often, assuming they have insurance somehow their only incentive is to go to the people who take the best care of them. They have no incentive for people to go to the most efficient care.
What role does AI play in this story?
There is no such thing as AI and there's no such thing as machine learning. They are a family of algorithms. They're mathematical algorithms just like addition, multiplication, subtraction, division, trigonometry, they're algorithms. 
MN: No discussion should ever be closed in any conversation, including the dinner table without some conversation about AI and machine learning. I mean it lives everywhere. It has succeeded. It is completely ubiquitous. So, tell us about the fallacy of that, because frankly you and I had a conversation about AI. We laughed about it, because it is a powerful concept yet to be implemented truly to implement the solutions of a consumer space. So, let's talk about health care AI, what that means to you, because vast amount of data is going to be unleashed if your predictions through your policies are going to happen.
That vast amount of data is going to hit the consumer front end, so to speak and be released out of the institutions. API is are going to enable them. That's the history we are trying to create. When that happens, people are going to say, "I can't consume it." AI partners are going to say, "I can help you." Right? Machine learning partners will say, "Absolutely." Then blockchain somehow enters the movie as well as the cameo we expect. Now, to mention a few, how do you want to advise that transition to occur? Because, we are a currently data obese and information starved.
DR: AI is a heavily buzzed word and I would encourage all of you as you think about this, it's not magic. There is no such thing as AI and there's no such thing as machine learning. They are a family of algorithms. They're mathematical algorithms just like addition, multiplication, subtraction, division, trigonometry, they're algorithms. So Mohan to your point, ask yourself when you hear something, don't just believe it. Is this likely to be plausible? Do the common sense, does this smell right to me things. If you sort of realize what's the algorithm and the people can't explain it to you, there is no algorithm, so then you can stop right there. If they can explain something that sounds like an algorithm, you should be pretty much set to have the first stab at any AI machine learning discussion.
MN: Your last advice to us, what do you believe us as citizens, as employers, as employees, should do in the enablement of the goal we're talking about? What was the one thing you think we should do?
DR: I think not only does the public need to get retrained, I think providers need to get retrained. I think we all have a right and frankly an obligation to ask questions of our providers.
MN: I wish we had more time. I honestly do. I hope you had a chance to meet the predictions that are coming in the future, the policies that are going to enable those predictions. I hope you saw the purpose behind what ONC and the leader of ONC is trying to make happen. Most of all, I hope you got to know the person who is with those principles to enable what I think is going to be very, very transformative change if we support this kind of energy in the health care system. Please join me in thanking Dr. Rucker.
DR: Thank you very much. Thanks.
That wraps up this episode of HealthChangers. You can find more information on all our episodes at cambiahealth.com. Follow us on Twitter @Cambia. You can now find HealthChangers on all of your favorite platforms. Just search for "HealthChangers" on platforms like Apple podcasts, Spotify and Google Play. Please subscribe and leave a review. Thanks for listening.
Resources