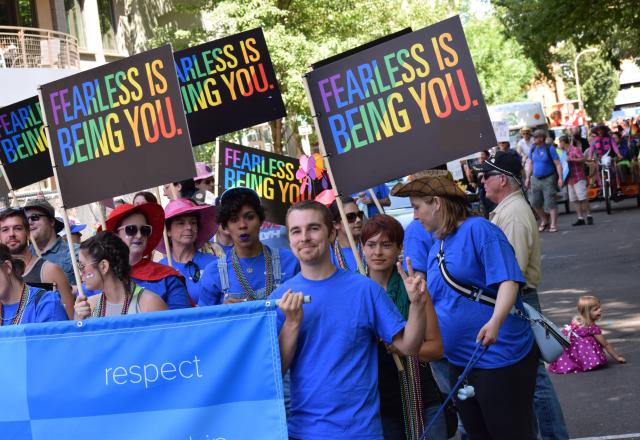 Cambia's PRIDE Employee Resource Group celebrating PRIDE in our various campuses in Idaho, Washington, Oregon and Utah
On this episode of HealthChangers, we're taking some time out from our usual podcast to turn the focus inward. In 2017, Cambia celebrated its Centennial. To mark the occasion, we invited StoryCorps to come in and host one-on-one conversations with employees, stakeholders, community members and other friends of Cambia. Their stories bring to life Cambia's Cause to serve as a catalyst to transform health care and make it more person-focused. And they illustrate the many meaningful ways change can happen in health care.
In honor of national Pride month, this episode features David Weir and Steve Lesky, who five years ago were part of a group of employees that helped start the Cambia PRIDE Employee Resource Group (PRIDE ERG), a workplace-based a group of employees with shared interests and life experiences. Now with over 100 members identifying as LGBTQ+ or allies, across all Cambia campuses, the PRIDE ERG is making a meaningful impact. They help to build camaraderie among our Cambia staff in broadening community awareness, acceptance and opening lines of communication in our community.
On this episode of StoryCorps, David and Steve share their story as friends and co-leaders of PRIDE and their work to have Cambia participate in the Human Rights Campaign Corporate Equality Index
They've led some very impressive diversity and inclusion efforts at Cambia.
Produced by and recorded by StoryCorps, a national nonprofit whose mission is to preserve and share humanity's stories in order to build connections between people and create a more just and compassionate world. Learn more at storycorps.org.