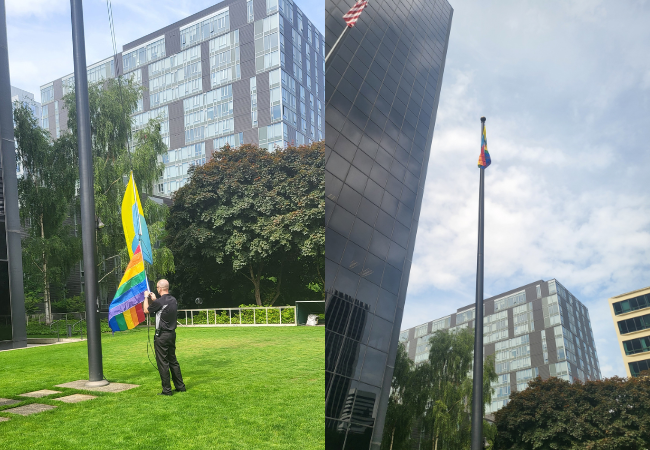 Every year, Cambia employees come together throughout the month of June to celebrate and support the LGBTQ+ community both inside our organization as well as across the communities where we live, work and play. The last two Pride seasons have been far from typical, and 2022 is the first time we've been able to safely gather in person instead of hosting largely virtual activities.
Thankfully, Cambia's employee resource group, PRIDE (Professional Respecting Individuality, Diversity and Equality), didn't miss a beat in helping team members and loved ones show their 2022 Pride with in-person events. Our Pride season this year kicked off in early June with an annual flag-raising ceremony at our headquarters in Portland, Oregon (pictured above). During the month of June (and year-round), Cambia employees are encouraged to volunteer with and donate to local nonprofits, including those serving the LGBTQ+ community. Eligible employee donations are matched by our corporate foundation to further the financial impact.
Celebrations and events continue all month with team members near and far, including virtual events to help build community, learn from one another and raise awareness of LGBTQ+ topics. This included the June 22 employee workshop called "Hiding in Plain Sight" by the organization Quantum Gender, which explored gender identity and provided training on how to be inclusive.
In January 2022, Cambia was proud to announce that we received a score of 100 percent on the 2022 Corporate Equality Index (CEI) for the sixth consecutive year. Administered by the Human Rights Campaign Foundation (HRC), the CEI is the nation's premier benchmarking survey and report on corporate policies and practices related to LGBTQ+ workplace equality.
None of this would be possible without the incredible passion and dedication of our employees, especially our PRIDE employee resource group and its leaders. As our PRIDE co-chair J Sanders said when we first received the HRC recognition, "The last couple of years have been tough – it's been more important than ever to know that Cambia invites employees to bring our entire selves to the work we do – and encourages authenticity, curiosity and courage."
Happy 2022 Pride to all our Cambia employees, loved ones and the broader community.