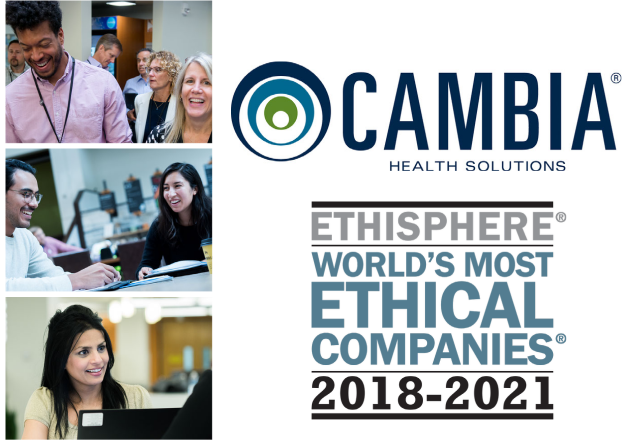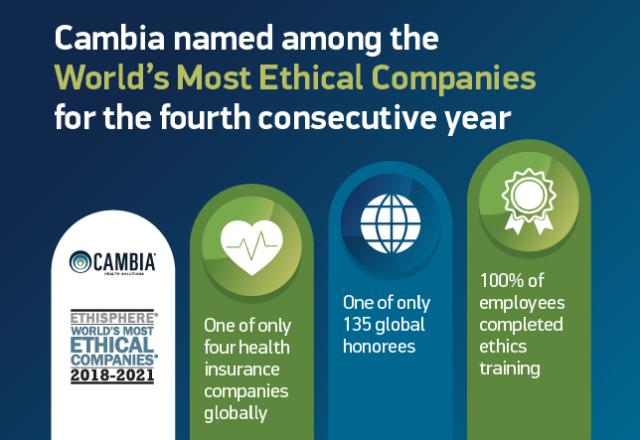 Cambia is honored to be recognized as a 2021 "World's Most Ethical Company" for the fourth consecutive year, joined by 135 other companies globally. This award is representative of the values Cambia employees demonstrate in the work they do every day to drive our Cause and transform health care for all individuals and their families.
"Our customers trust us at some of the most important moments in their lives – as they experience the joy of a new baby, navigate the pandemic, manage a chronic disease, or deal with a serious diagnosis like cancer. Our charge is to act with integrity, be there for the people we serve in sickness and in health and create an ethical health care system that treats people the way we want our own family members to be treated." 
— Jared Short, Cambia President and CEO
We're in good company, recognized alongside Northwest companies including Microsoft, Intel, Schnitzer Steel Industries and Weyerhaeuser. Learn more about our past World's Most Ethical Companies recognitions from 2018, 2019, and 2020.
Cambia Employees Share Their Thoughts on How We Embody Ethics Across our Organization: