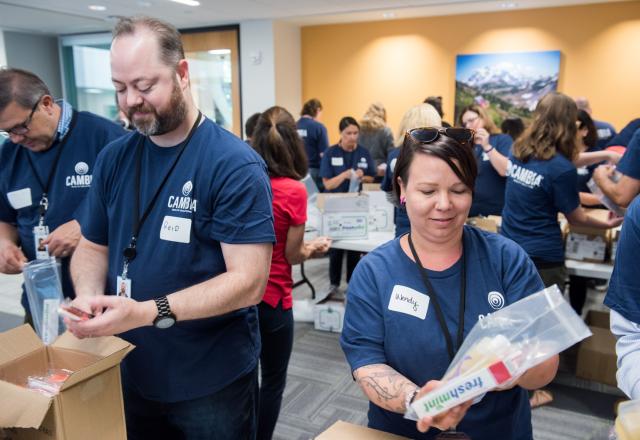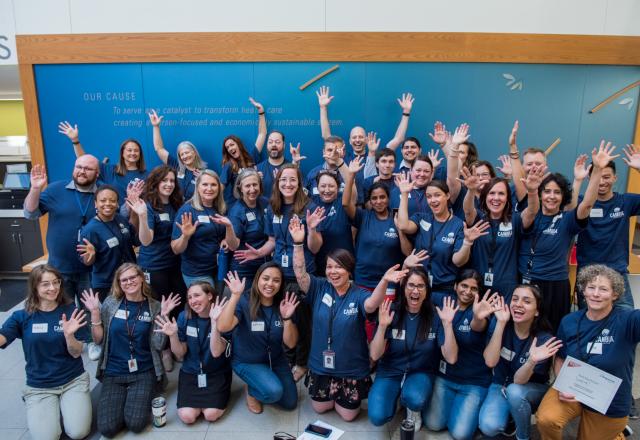 Recently, Cambia employees partnered with Medical Teams International at our Portland, Oregon headquarters to assemble 500 health essentials kits for underserved populations in our community.
A locally-based nonprofit organization, Medical Teams provides life-changing medical supplies and services to people in crisis around the world and in our own backyard.
Over the course of an afternoon, 40 Cambia employees worked side-by-side to put together 500 kits that can help prevent diseases and provide life-saving care in a time of crisis. Each kit was stocked with health essentials, including a toothbrush, band-aids, soap, a wash cloth, comb and more.
"Together, with our corporate partners, we leverage our strengths to accomplish exponentially more than we can alone." 
– Martha Holley Newsome, President and CEO of Medical Teams International
Cambia's long-standing partnership with Medical Teams goes back 20 years on a variety of health care initiatives. Learn more about our kitting event from our employee video.
Watch Video: Cambia Employees Reflect on Giving Back