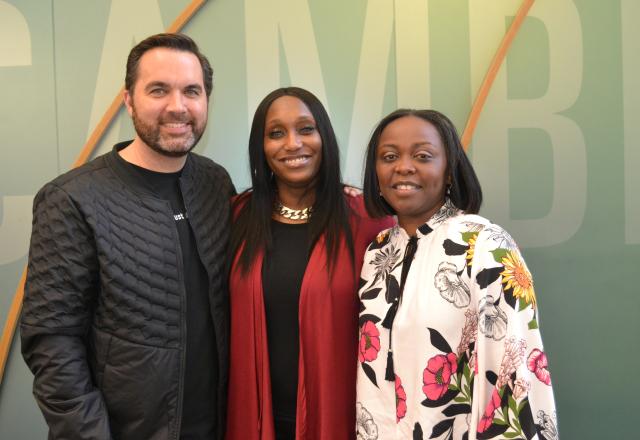 "The Power of Giving Back" was the theme at this year's Black History Month Celebration, where Cambia's African American Employee Resource Group (AAERG), held a panel discussion about community impact. The panel featured Shalisa Hayes, a long-time employee of Cambia's regional health plan in Washington State, along with Jorge Casimiro, chief social & community impact officer at NIKE, Inc.
Both Shalisa and Jorge strive to live purposeful, generous lives that focus on strengthening communities.
Jorge, the child of Cuban immigrants, grew up watching families in his community—including his own—helping each other and connecting over baseball, a popular sport and pastime in Cuba. When he was 10 years old, he was excited to try out for little league baseball, but accidently overheard the coach talking to his mother saying, it was "too late" and that he "wouldn't be any good."
"Kids need someone in their corner, whether it's a teacher, friend, or family member―or you― they need someone in their corner, encouraging their potential."
 ― Jorge Casimiro, Chief Social & Community Impact Officer, NIKE, Inc.
This experience stayed with Jorge and had a profound impact on the leader he is today. "The irony in all of this is that my job at Nike is to help kids have an opportunity to play and hangout in places like community centers all around the world," Jorge said. 
"You have to keep going. Keep pushing. In the end if I had given up, I would have lost twice."
― Shalisa Hayes, Cambia employee
Community centers were a central topic as both Jorge and Shalisa shared how these centers provide children and families with a place to call their own. They bring residents together through educational and healthy activities, and engaging programming.
How Healing the Community Started with a Question
It was like any other day. Shalisa and her 17-year-old son Billy Ray were driving down Portland Avenue in Tacoma, Washington, when unpromoted and staring out of the passenger car window, he asked, "Mom, how do you open a community center? There's nothing for kids in the east to do." Six months later, Billy Ray would become an innocent victim of gun violence. Billy Ray had planted a dream with his question and at his funeral in front of 500 friends, family and community members, Shalisa shared this story and added, "We're going to make it happen."
One mother's loss became a catalyst for community impact. Inspired by her story, the community rallied around Shalisa and helped raise $700 that ballooned into millions with government grants and donations; enough to break ground on a nearly 60,000-square foot structure in her neighborhood.
Janet Campbell, Cambia's vice president and chief of staff, closed the discussion with a quote from the book, "A Hand to Guide Me," by Denzel Washington: "At the end of the day, it's not about what you have or even what you've accomplished. It's about what you've done with those accomplishments. It's about who you've lifted up, who you've made better. It about what you've given back."
Watch highlights of Cambia's AAERG Black History Month Celebration.
Links and Resources