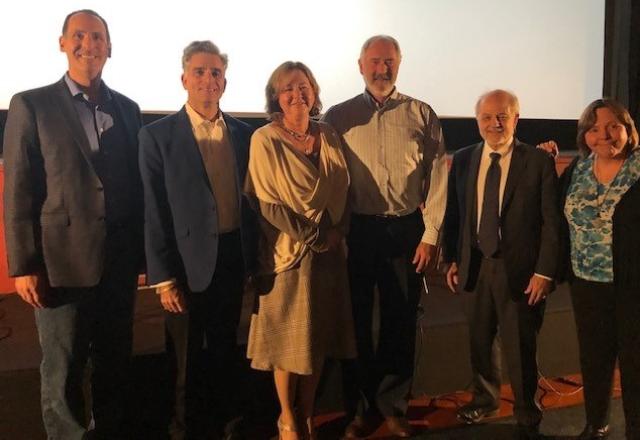 Chad Crooks wanted to work for NASA. He showed a keen interest in space travel from a young age and dreamed of a career with the space agency.
His interest never waned, but he had doubts about his ability to fulfill that dream when, in his teens, he started hearing voices and having hallucinations, eventually explained in a diagnosis of schizophrenia. At age 21, Chad died by suicide, stilling the voices for good.
Todd and Laura Crooks turned their son's death into a promise to confront the stigma associated with mental illness. The Crookses were part of a community conversation Thursday, sponsored by Cambia Health Solutions, to acknowledge mental illness as a disease like any other. Only by talking about it, they say, can a need for treatment be identified earlier to enable people like Chad to realize their dreams.
"We don't treat other diseases like this," Laura Crooks said. "If you have diabetes, we get you help. If you have heart disease, there are medications. With cancer they tell you to get evaluated early before it gets too late. We're here to say the same thing should be true of mental illness."
About 85 people gathered at Cinema 21 in Portland to watch a documentary about Chad's life and hear the lessons the Crookses learned along the way. The Chad's Legacy Project promotes conversation and led to a statewide mental health summit in Washington State, now in its third year.
As part of the conversation, a panel of experts shared their perspective and took questions from an engaged audience. Facilitated by Dr. Jim Polo, a psychiatrist who is executive medical director for Regence BlueCross BlueShield of Oregon, the following panelists were part of the event: Dr. George Keepers, chairman of the psychiatry department at Oregon Health & Science University; Tamara Sale, executive director of the Early Assessment and Support Alliance (EASA); and Chris Bouneff, president of NAMI Oregon.
Sale talked about her organization, which provides training and technical assistance for families, and provides community outreach for education about the early signs of mental illness. A top priority is for education in high schools.
She used the analogy of people in wheelchairs trying to get to services on the second floor of a building with no ramps or elevators. EASA was designed to create the ramps, do the outreach and build the elevator to services for mental illness to create messages that counteract the idea that because you hear voices you can't become an occupational therapist or a lawyer or a space scientist.
Keepers echoed that message: "All these conditions are treatable, and treatable to the extent that people can continue their life," he said.
He also talked about how suicide fits into the picture. Just 10 percent of people with depression are suicidal, he said. But that, too, brings stigma.
Keepers shared a personal story about his father's death by suicide. When people asked how his father died, he told them, even though the temptation at the time was to hide it. He said the reaction was remarkable. "People were almost struck speechless by my revealing that," he said. Throughout his education, he researched his family history and found other mental illness. Nobody in the family had ever discussed it, so it remained hidden within the family.
"Suicide is frightening to people and to families, and we have a hard time conceptualizing how a person could die in that fashion," he said. "As a result, the things we fear, we hide from. The great gift that the Crookses have given is to not hide from it."
The NAMI model is: You are not alone.
Bouneff echoed that stigma is a huge component in society, but he said even if we get past that, the environment is not prepared to respond. Cost is still a huge barrier for some people seeking treatment, just as it is for other parts of the health care system.
NAMI works to reassure people that they are understood and will have someone who can hold their hand and equip them with information they need, whether they're a parent, adult, teacher or someone living with a mental illness.
Polo said he hoped this was just the first of many such conversations about mental illness as the community continues to look for solutions and break down stigma.
"Ultimately, Laura and I are not standing here because of what we know now," Todd Crooks said. "We're standing here because of what we didn't know. That's hard to admit."
Said Laura Crooks:
"There is help, and we can all do something about it. If there's one thing I can ask everyone to do it's to talk about it and take mental health first-aid. So that when you have someone you interact with who has a mental health issue you are not afraid to talk about it, to lean in and help that person. Take action. Speak up. Talk about it."