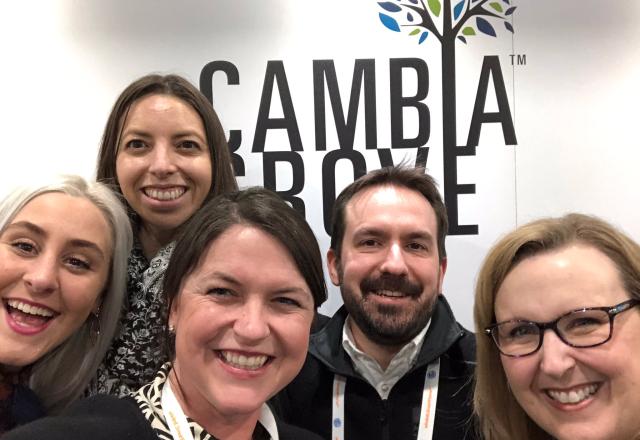 Cambia Grove, Cambia's health care innovation hub, has been off to a vibrant start in 2019, continuing to bridge the gap between entrepreneurs and the traditional health care sectors in the Pacific Northwest and beyond. Catch up on the latest happenings with stories to read, resources to explore and events to register for.
Read
Utah Outpacing Nation in Health Care Innovation, Cambia Grove Report Finds
In January, the Cambia Grove team traveled to Salt Lake City to launch a new health care innovation report, outlining the health care innovation economy in the state of Utah. The report was created in partnership with the Economic Development Corporation of Utah (EDCUtah) and follows a 2015 report from Cambia Grove measuring the health care innovation landscape in Washington state. Read this news release for more background on the report and the state of health care innovation in Utah.
Don't Forget to Look Up! Learnings from our 5 Points of Health Care™ Overview
In 2018, Cambia Grove launched their 5 Points of Health Care™ programming series exploring the five health care sectors ("points") that make up the system—patients, payers, providers, policymakers and purchasers. The series is back for 2019 and kicked off in January with the 5 Points of Health Care Overview event.
"My ask to you is to find a way to 'look up' to anticipate future needs of the people we are serving," said Cambia Grove's executive director Maura Little, reflecting on the event. Read her full blog recap of the event.
5 Reasons Why Utah Is a Health IT Hub to Watch
Healthcare Analytics News interviewed Maura Little about the recent Utah Health Care Innovation Landscape and wrote a recap of some of the key findings. One of the takeaways? Innovation is a science. "Breaking down how healthcare works into its moving parts enables companies to see beyond the pain points," said Healthcare Analytics News' Janae Sharp. Read the full article.
Explore
Data Resource Directory
The Cambia Grove Data Resource Directory highlights valuable resources that are available to changemakers in healthcare, including filters for category, data type and costs. The directory launched in January after a crowdsource campaign. Check out the directory here.
Startup Census
Cambia Grove's Startup Census is a state-level database of current health care-related startups. In conjunction with the Utah Health Care Innovation Landscape report, Utah health care startups were added to the census. Check out the Startup Census here.
Utah Health Care Innovation Landscape report
Health care innovation has led to 60,878 total employment opportunities and 3.67 billion dollars in total sales throughout the state of Utah. Read the full Utah Health Care Innovation Landscape report, created in partnership with EDCUtah, for more findings.
Register
Register for some of Cambia Grove's upcoming events featuring industry experts or check out their full event calendar.
Barriers to Innovation: Roundtable Discussion with Dr. Bob Crittenden
February 26, 10:30 AM-noon, @Cambia Grove
Under the Boughs with Robert S. Mecklenburg, MD
February 27, 4:00 PM-6:00 PM, @Cambia Grove
5 Points of Health Care™: The Payer Panel
March 7, 3:00 PM-5:00 PM, @Cambia Grove