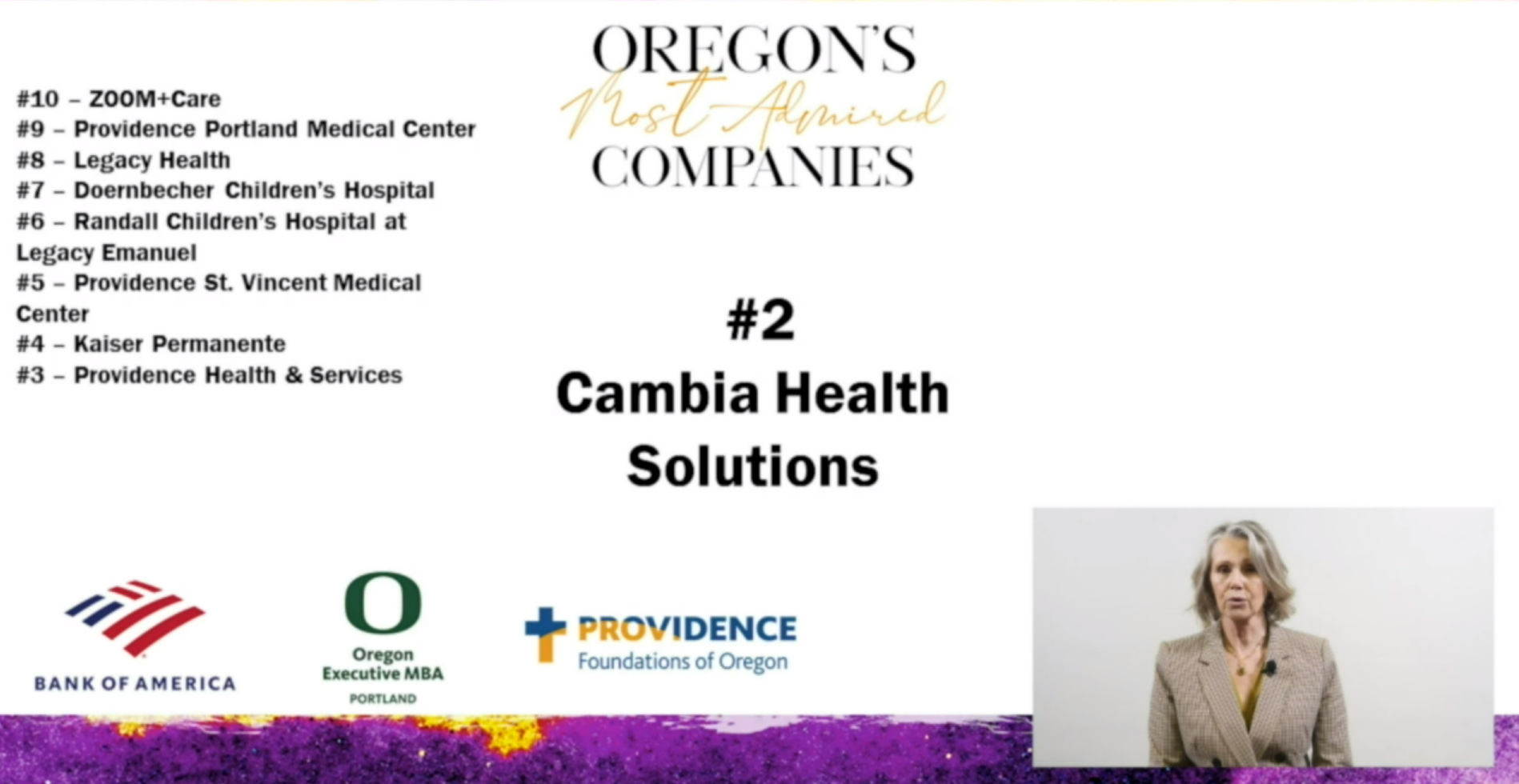 Over 100 years ago, a group of timber workers in the forests of the Pacific Northwest came together with an idea. Together, they would pool a portion of their wages, to form a community safety net in case of illness or injury. In 2020, a year defined by challenges and change at every turn, that guiding principle of neighbor helping neighbor has never been more important. 
We are honored to be recognized by Portland Business Journal as the second "Most Admired" health care company in Oregon, alongside Oregon Health & Science University and Providence Health & Services. This is a proud moment for all Cambia employees, who work each day to transform health care and make it better for individuals and their families. See how we have continued to drive our cause in 2020.
---
When Oregon and Washington were suddenly battling statewide wildfires, Cambia responded by getting meals to fire evacuees in Clackamas County and donating $25,000 to the American Red Cross' fire relief efforts. 
At the 2020 AHIP Institute, Chief Executive Officer Mark Ganz shared his insights on the growth and widespread usage of telehealth during the coronavirus pandemic and the importance of seizing a challenging moment to become more person-focused. 
The way care is delivered has changed forever due to #Covid_19. "Last year at this time we were feeling good about having 10K #telehealth visits, that was a big improvement from the year before. This year so far, we're at 400K. I celebrate that." -@GanzMark #AHIPInstitute pic.twitter.com/dC5rq9Lm0e

— Cambia Health (@Cambia) June 18, 2020
In response to growing food insecurity caused by COVID-19 pandemic, Cambia employees stepped up. Through our employee giving program and 100% donation matching, employees raised over $218,000 for six food banks that are working to ensure that children, families and the elderly are not going hungry.  
Pre #COVID19, 1 in 7 people in the U.S. were considered food insecure. School closures & job losses have increased food needs. Read our blog post to learn more about how our employees have contributed to our communities & how you can donate. #WeAreCambiahttps://t.co/9DS9njSYBk pic.twitter.com/UXkWbZEjmm

— Cambia Health (@Cambia) May 15, 2020
Vice President and Chief Information Officer of Health Plans Lori DeLone discussed her experiences about her work as a board member of Girls Inc., a nonprofit organization dedicated to inspiring girls to be strong, smart and bold. 
When girls are empowered, they are unstoppable. Cambia VP and CIO Lori DeLone shares her experiences serving on the @GirlsIncPNW board and helping to help make #STEM accessible to girls across the Pacific Northwest: https://t.co/SKj55whc1y#StrongSmartBold #WeAreCambia pic.twitter.com/6mXc2xAtSk

— Cambia Health (@Cambia) June 30, 2020