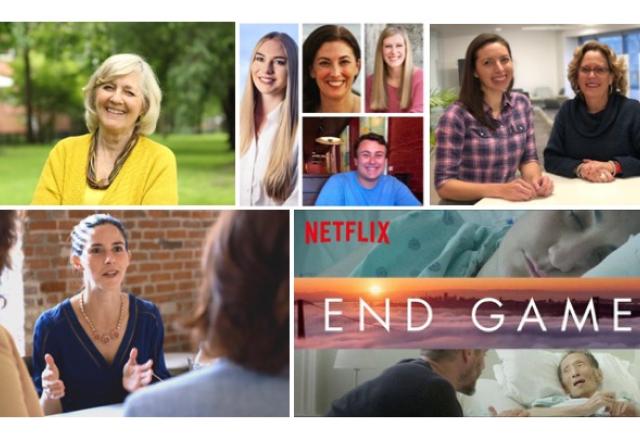 The mission of our HealthChangers podcast, presented by Cambia, is to share real stories of health care transformation from those experiencing it and those helping to make health care more personalized – and in 2018, we spoke with some incredible women leaders in health care.
We rounded up some of the most inspiring interviews from the past year's HealthChangers podcasts that feature women leaders within our community, from entrepreneurs like Robin Heffernan to Pulitzer Prize winner and The Conversation Project co-founder, Ellen Goodman. If you missed the episodes below, now's your chance to catch up before the 2019 series gets underway.
Join us in celebrating the wisdom, intelligence and dedication of these fearless leaders in health care. A full list of HealthChanger podcasts can be found here.
Ellen Goodman, the co-founder of The Conversation Project, is dedicated to helping people talk about their wishes for end-of-life care. The Conversation Project began in 2010 when Ellen Goodman and a group of colleagues and concerned media, clergy, and medical professionals gathered to share stories of "good deaths" and "bad deaths" within their own circle of loved ones. In this episode, she talks with Cambia Health Foundation President Peggy Maguire about the importance of advance care planning.
From the interview: "The kindest thing that we can do at the end of life is to make sure that the people we love have the death that they would choose. Live toward the end of their lives in the way that they would choose."
Entrepreneurs hoping to succeed in health care have to consider the needs of many stakeholders. These stakeholders--sometimes called the "five points" of health care--are patients, payers, providers, purchasers, and policymakers. Entrepreneurs want insight into health care, but often experience barriers. The Five Points Conference bridges that gap, the hope is that at the conference, entrepreneurs will gain insights into how the health care system works and how they can better bring innovation to the industry. In this episode, we hear from conference participant, entrepreneur and CEO of Daysaver, an automated scheduling service for business and health care providers and Jessica Hauflaire, Business Operations Manager at Cambia Grove.
From the interview: "Have hope, don't be discouraged. There's plenty to do, plenty of room for entrepreneurs."
Having access to health care is a national conversation, but one significant step that is often overlooked is the transportation to and from the doctor's office. We talk with Robin Heffernan, the Co-Founder and CEO of Circulation a digital platform that offers a straightforward and accessible solution to coordinate convenient and reliable nonemergency transportation for all areas of health care. Robin describes how Circulation was developed as a single access point for scheduling and monitoring of transportation and how it's helped their consumers save money through its efficiencies.
From the interview: "We work with Uber. We work with Lyft. We also work with wheelchair providers, ambulance providers, door to door service, but at a very simple level, we help patients get to and from the health care appointments that they need."
Dr. Shoshana Ungerleider is the executive producer of End Game, a documentary on hospice and palliative care that follows two doctors as they do their compassionate work with patients and families living with serious illness. In this podcast episode, Dr. Ungerleider joined Cambia President and CEO, Mark Ganz, Dr. Steven Z. Pantilat and moderator Peggy Maguire, Cambia Health Foundation president and board chair for a panel discussion following a screening of the movie in Portland.
From the panel discussion: "Some families, some patients in this situation will say, "I want to be home, I want to be with my family. I don't want more treatment." And that's a very legitimate decision, and there are other people in this situation who say, "If there's a medicine that might make my symptoms a little better, might help me live a few more weeks, I would like to give it a try."
Millennials are the largest generation in the United States, and their influence continues to grow and be felt across industries. Health care is no exception. Heather Burton, Director of Marketing for HealthSparq, a platform designed to help people make smarter health care choices, joins a discussion with three millennials to talk some of the most game-changing ways millennials want to interact with the health care system.
From the interview: "I think that the biggest challenge for millennials is going through all of the paperwork, all the words, all of the things that you have to read and sign and everything that you don't really understand, but you know that you have to do."