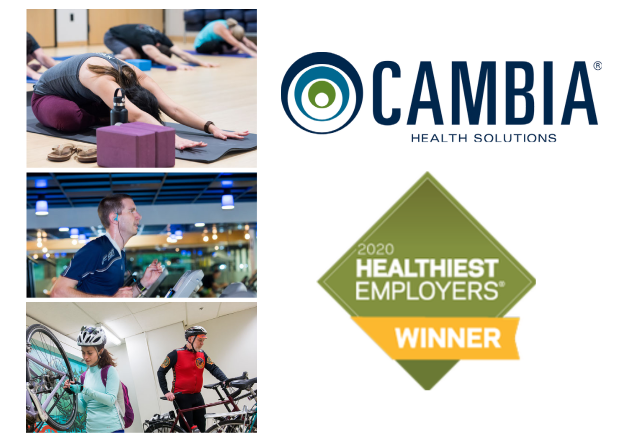 Oregon employer ranks #1 in the state based on employer size, #1 overall ranking in Utah, Washington
Cambia Health Solutions has been recognized for the 8th year running as one of the Healthiest 100 Workplaces in America, an awards program created to honor people-first organizations that prioritize the well-being of their employee population and powered by Springbuk. These companies were recognized because of their commitment to workplace wellness and their exceptional health and benefits offerings. They were chosen out of the national pool of applicants from all regions, size categories, and industries.
Award applicants were evaluated across six key categories: Culture and Leadership, Foundational Components, Strategic Planning, Communication and Marketing, Programming and Interventions, and Reporting and Analytics. Completed assessments were ranked with the proprietary Healthiest Employers® Index, a 1-100 rubric for wellness programming.
"We're honored by this recognition, which reflects our deep commitment to the health and wellbeing of our employees, health plan members and the communities we serve," said Elizabeth Hall, vice president of employee experience. "Now more than ever, health is our top priority."
Cambia's workplace wellness offerings and employee commitment to health places the company as the #1 Oregon company based on employer size for the second year in a row. For the second year in a row, Cambia was also ranked #1 overall in Utah and Washington.
Integral to this success is Cambia's approach to well-being through empowering employees towards life balance by focusing on their current health status, risk factors, personal life and career circumstances. This hyper-personal focus extends to Cambia's unique "EveryBody Wellness" program, a two-week informational campaign that addresses topics pertaining to each employee's unique needs. Cambia's wellness team developed this program to be inclusive of both an individual's inherent and acquired characteristics, working with our LGBTQ employee resource group to create a self-selection process for employees to choose what wellness support information they needed. In addition to generalized information supporting mind and body wellbeing, the content addressed how people of various ethnicities face health care needs individually.
Employees responded enthusiastically to the personalization program with 97% of participants indicating they would either be "highly likely" or "likely" to participate in this program again, and 75% reporting they learned something new and useful. The top five most valued topics addressed were stress, metabolism, hormones, heart health, and mental health.
To learn more about Cambia's approach to workplace health, visit our lifelong well-being page.