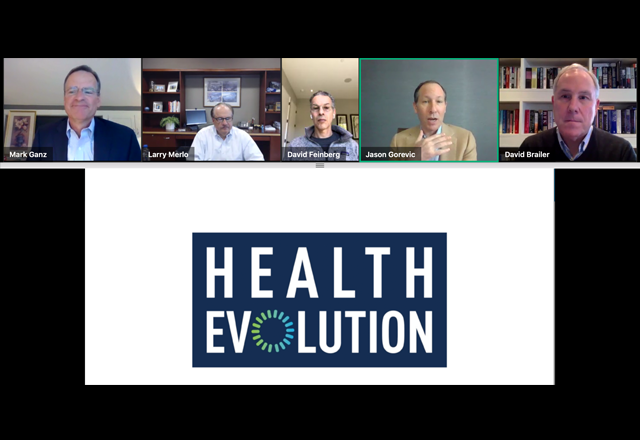 We all know how important it is to stay at home and social distance for our safety and the safety of others. In this spirit and thanks to innovation, the recent Health Evolution Summit was held virtually and gave leaders of companies deeply involved in the transformation of health care the opportunity to continue to connect during this important time. Now more than ever, it is critical to work and collaborate together as an industry to reach the common goal of the health and safety of our communities.
Cambia CEO Mark Ganz participated in two panels at the virtual summit: Pandemic Response: A Public-Private Call to Action and Executive Briefing: Artificial Intelligence & Machine Learning.
Highlights from Pandemic Response: A Public-Private Call to Action
Host: Peter Lee, Corporate VP, Microsoft
Discussion Leaders: Mark Ganz, President & CEO, Cambia Health Solutions; Summit Chair, Warner Thomas, President & CEO, Ochsner Health System, Steve Udvarhelyi, MD, President & CEO, Blue Cross Blue Shield Louisiana; Summit Chair
We have been in the sprint – now we're entering the marathon – there's concern about how providers/front line will hold up and not hit a wall, as well as people and families in isolation.
There's consensus across the board that the health care system will be better after getting through this – with commitment to working better together and faster and sharing resources/tools.
Appreciate the lifting of regulations – allowing us to move fast and innovate more rapidly.
Everyone is agreeing a big positive will be the adoption and acceptance of telehealth.
"Strategically, we've tried to keep alignment between human connection and how #AI can help foster the human connection. And boy is that so important right now." @GanzMark @Cambia #AIML #COVID19 #HEVirtualGatherings

— Health Evolution (@TheHealthSummit) April 1, 2020
Highlights from Business Use Cases: Progressive AI/ML Initiatives to Drive Efficiencies
Host:  Peter Durlach, Chief Strategy Officer, Nuance
Discussion Leaders: Faraz Shafiq, CAIO, Cambia Health Solutions; Keith Dreyer, DO, Chief Data Science Officer, Partners Healthcare and Aaron Martin, EVP & Chief Digital Officer, Providence St. Joseph Health
COVID-19 is accelerating the adoption of AI in health care by many years.
When determining business use cases, we need to ask: What are the goals of the organization? What are the assets it has? Where is the delta? Can AI fill that gap?
If you can't create relationships between episodes of care, then you're going to be disrupted.
If we want to punch above our weight and make sure new technologies are scaled – we need to work outside our four walls.
At the end of the day, health care will be disrupted at the intersection of technology and humanity.
Highlights from Executive Briefing: Artificial Intelligence & Machine Learning
Host:  Mark Ganz, President & CEO, Cambia Health; Summit Chair
Discussion Leaders: David Feinberg, MD, VP, Google Health; Summit Chair, Jason Gorevic, CEO, Teladoc Health, Larry Merlo, President & CEO, CVS Health
Pandemic will change health care forever: 
The Covid-19 pandemic will change health care forever. Leaders need to collaborate for the consumer. Health care is a community issue, we're all in this together. 
Adaption needs to move faster than the virus 
Mental health: people are lonely. Google is screening for PTSD/Suicide based on searches on desktop and mobile 
The need for artificial intelligence is extremely important now. We can have consumers chat directly with bots but it has to serve the consumer and be transparent.
Key takeaways from today's @TheHealthSummit #HEVirtualGatherings panel: #COVID19 will change #healthcare forever, #AI & #Mentalhealth are more important than ever, adaption needs to move faster than the virus and collaboration is key, we all need to come together for consumers. pic.twitter.com/C02kFlWt2m

— Cambia Health (@Cambia) April 2, 2020