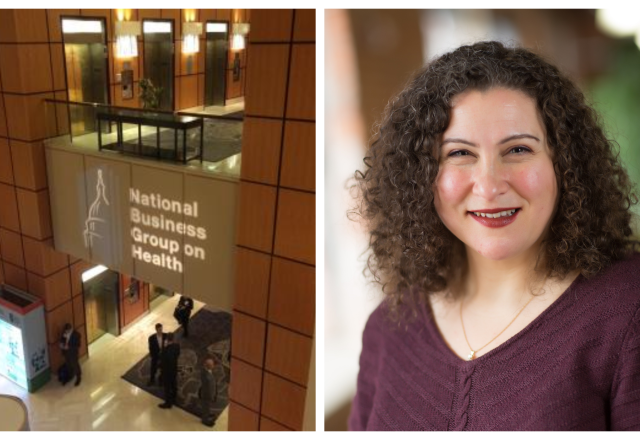 By Nicole Elovitz, Director of Product Marketing, Cambia Consumer Solutions
This Spring Cambia Health Solutions returned to the National Business Group on Health's (NBGH) semi-annual employer benefit leader conference, "Tipping Point? Weighing the Impact of Industry Change" held in Washington DC, focused on business and employee benefit leaders. NBGH is the nation's only non-profit organization devoted exclusively to representing large employers' perspective on national health policy issues. Members are primarily Fortune 500 companies and large public-sector employers who provide health coverage for more than 50 million U.S. workers, retirees, and their families. 
This year, Cambia President and CEO Mark Ganz was the keynote, where he took an opportunity to speak to employers to ensure health care is focused on the needs of people and their families.
Key takeaways from NBGH business leaders:
1. Engagement is not just a metric for social media
Engagement continues to be a buzzword, even in the health care industry. However, the focus across the board is now on the "where and how" of delivering benefits, not just what programs are being used to drive engagement. Important to note: depending on the generation, engagement will vary. As one might assume, Gen Xers and millennials typically engage more, while baby boomers do so much less. Texting is also effective, beyond email and traditional messaging. Nothing beats in person meetings, however – so health care experts advise keeping "facetime" as real as possible.
2. Considering patients' "whole lives" is better for business
Mental, physical and emotional health are all part and parcel of any health care consumer's journey. How does considering the "entirety" of a patient as opposed to just their sole reason for the doctor's visit translate in the health care world? For starters, it gives professionals an opportunity to address the various 'pain points' a consumer has and allows for more interaction – and potentially impact – throughout care. An all-around employer message to emerge from this event: "Let us be hands on – so you can be hands off."
3. Investing in cutting-edge digital advancements is good for the gander
Cambia is already focused on compassionate AI for personalizing health care but there's always more to learn and engage within this space. Employers are investing in augmented reality, telehealth, sensors, AI personal health and health dashboards that are mutually beneficial for consumers and companies alike.
Mark's headline presentation touched on the Cambia health care story - one of hope, taking risks and putting the consumer first. We look forward to participating in further NBGH programs and learning how our approach to health care innovation registers with audiences, companies and consumers alike.