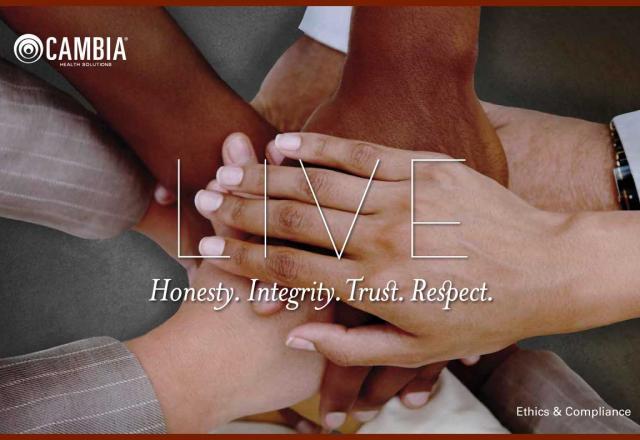 To begin 2019, we're taking a look back at the stories that resonated most with our readers over the past 365 days. Popular themes range from health care innovation and progress toward empowering people on their health care journey to a focus on consumer-centric health care experiences, skilled volunteerism to make an impact on global communities, Cambia culture and more. We're inspired by the work and achievements of 2018 and look forward to the coming year. Read on to see our top five blogs from this past year.
The concept of ethics can mean a lot of different things for many people, but at Cambia, we are guided by our Cause to transform health care. Our commitment to employees and consumers is to never lose sight of doing what's right for those we serve. We were honored to be named one of 2018 World's Most Ethical Companies by Ethisphere Institute. Read more about Cambia Health Solutions Recognized as one of 2018 World's Most Ethical Companies.
Each year, Cambia's Innovation Force challenges interns to develop ideas that transform health care at the "Annual Intern Igniter Challenge." Hear from 2018 Strategic Marketing Intern, Kelsey Akerson, as she talks through her experience exploring person-focused innovation.
Read more about Cambia Intern Explores Person-Centered Innovation.
During the Health Evolution Summit, Cambia's President and Chief Executive Officer Mark Ganz and Echo Health Ventures CEO Rob Coppedge shared their perspectives on the culture change that is driving health care transformation through video interviews: Meeting People In Their Lives and The Key to Scaling Innovation. Watch their full interviews.
Read an update on a group of skilled volunteers from Cambia's IT department who have been working with Medical Teams International since 2015 to build and implement the Health Information Program (HIP) mobile app. This volunteer projects improves and automates medical reporting for patients served at health clinics across Uganda's refugee settlements, ultimately changing their experience with health care for the better. Read more about Mobile App Helping Refugees through Cambia's Skilled Volunteerism with Medical Teams International.
Rounding out our top five posts is a HealthChangers Podcast featuring millennials in different places in their professional lives. They each share their experience with health care and are representative of some of the most game-changing ways millennials want to interact with the health care system. Read more about HealthChangers Podcast: How Millennials Are Changing the Health Care Industry.