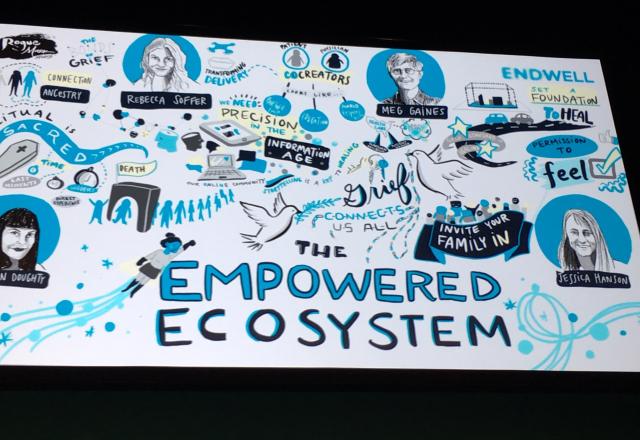 Navigating a complex health care system while living with a serious illness can be incredibly stressful for individuals and their families. Cambia President and CEO Mark Ganz and Cambia Health Foundation President and Palliative Care Leader Peggy Maguire have recently spoken alongside other thought leaders to diverse audiences about steps individuals, medical providers and companies like Cambia can and have taken to assist families facing serious illness.
At the End Well Symposium in San Francisco, Peggy shared the stage with columnist Courtney Martin on the transformation Cambia has been driving in palliative care focused on an individual's whole self – body, mind and soul. Peggy explained, "It's not just about what's the matter with you, but what matters to you."
Mark also addressed attendees as keynote of AARP Oregon's Vital Aging Conference, empowering individuals with education and information about palliative care. He emphasized the importance of the second patient, caregivers, and the role they play in ensuring individuals with serious illness are living their lives to their fullest potential.
"Why should your experience at the beginning of your life be any different than the end? To @AARPOR members: help us raise awareness for palliative care. Feel empowered to ask for palliative care...for your dad, brother, sister, child or yourself." @GanzMark #VitalagingPdx pic.twitter.com/v5JyE3CpdA

— Cambia Health (@Cambia) December 1, 2018
"We were there not to witness his death, but to witness his life to the very last breath." @Cambia CEO Mark Ganz shares a powerful personal story about healing and relationships in life and end of life. #VitalagingPdx @AARPOR #palliativecare pic.twitter.com/VQVhi3VNDG

— Bandana Shrestha (@Bandana1) December 1, 2018
Distinguishing palliative care as a hallmark of Cambia drive to transform the health care experience
Mark expressed that everyone in the audience had the power to be palliative care "ambassadors," to help "raise awareness and take away the stigma" surrounding it. One way Mark did this was to distinguish hospice care from palliative care. He drove home several vital points about palliative care and the high priority role it plays in Cambia's broader optics.
"Being empowered is essential to vital aging," he shared with the crowd of mostly 50+ year old folks, "ensuring your needs are understood and prioritized." He continued, "Care should be focused on your whole self – body, mind and soul – the transformation we've been driving, based on a deep understanding of people throughout their health care journey." Mark explained, "There is no other area of health care where focusing on the needs of people, is more vital - palliative care is version one of creating a better, more person-focused health care experience. Cambia has deployed every asset of our company – across our foundation, health plans, strategic investments and technology innovations - to create a holistic approach to advancing this level of care in our health care system."
Peggy Maguire in conversation at the 2018 End Well Symposium
Cambia Health Foundation President Peggy Maguire recently sat down for a 15-minute conversation about Cambia's role in creating a movement to change the experience of people and families living with serious illnesses at this year's End Well Symposium in San Francisco, California. In its second year, End Well is a one-day symposium for human-centered design and care innovation and explores the personal, cultural and health systems-related issues and opportunities that occur near the end of life.
A number of dynamic guest speakers shared their own stories ranging from the mysteries of mortality to the power of words to either constrain or expand our ability to imagine – and experience – well being during illness and through the end of life. End Well excels at bringing together people from diverse backgrounds (architects, filmmakers, philanthropists, technologists, etc.) working to solve problems that can arise with later-in-life issues
In this casual but lively sit-down, Peggy shared her experiences and vision for ways to accelerate a movement that infused empathy in health care and results in a more human-centered experience.
When asked about the early stages of bringing attention to palliative care on a broader scale, Peggy shared excerpts from her experience that have affected her passion for supporting Cambia's Cause so fiercely.
"Our Cause is broader than our bottom line. It's not about us. It's fundamentally about system change, and our role as a catalyst in making healthcare more person-focused. It has everything to do with the dignity of human life and improving how people with serious illness and their caregivers experience the health care system."
Citing the crowd's diversity, Peggy expressed joy at the presence of "different backgrounds, professions and industries – and we all want to focus on what matters most to people facing their own mortality. I think that's really exciting and inspiring…"
Special guests
The special guests at this year's End Well included well-known actors to people who have had firsthand experiences with serious illness and learned along the way. Each speaker spoke their own truths to power and echoed Cambia's own tenets in a number of illuminating ways. Actor Justin Baldoni's (you might know him from "Jane the Virgin") "faith, family, and natural curiosity" led him to embrace the "mysteries of our mortality and launch a quest to transform our death-phobic culture." He shared eye-opening observations as an artist and director "entrenched in finding and illuminating the beauty and stories of people passionately living while dying."
Others had more pragmatic topics to share. Guest Alicia Garza shared her experience as an organizer for both domestic worker rights and African-American equity and explored the roles of personal experience and social mobilization in generating solutions that are inclusive, equitable and powerful.
Dr. Kai-Fu Lee, PhD, Chairman and CEO of Sinovation Ventures and President of Sinovation Venture's Artificial Intelligence Institute, a leading venture capital firm focusing on developing the next generation of Chinese high-tech companies, spoke alongside Sara Auster, Jeremy Bailenson, PhD and Maya Shankar, Phd, on the "Tools of Transcendence." He addressed Artificial Intelligence, and posited that AI cannot offer love, empathy or compassion – necessary tools of the trade for individuals working in palliative care. To be human is a gift, and ultimately, is all we need to treat others with the kindness and respect they merit in end-of-life struggles.  
After some soul-searching, @justinbaldoni found new purpose to his career by facing uncomfortable subjects head on. We appreciated hearing how this experience shaped his relationship to life & death at #EndWell18. https://t.co/Kt6vstwYPr via @qz by @corinnepurtill

— End Well (@endwellSF) December 10, 2018
Cambia's Call to Action
Rounding out the talk, Peggy was asked to share her own call to action. "Make it personal," she said. "Think about the moments of truth and how you want your loved ones to be treated.  Collaborate, don't duplicate efforts. Develop a uniform message so that people with serious illness know what to ask for and how to ask for it."
Twitter took notice. Here are some tweets sharing reactions to Cambia's work in palliative care.
Grateful for the vision of @CambiaHealthFdn @MaguirePeggy calling out that investing in Palliative Care is an investment in humanity. Palliative care is not about giving up, it's about living well with serious illness. #EndWell18 #hpm #MedEd pic.twitter.com/8Io0VU1FTc

— Shireen Heidari (@ShireenNHeidari) December 6, 2018
Learn more about Cambia's efforts in palliative care.