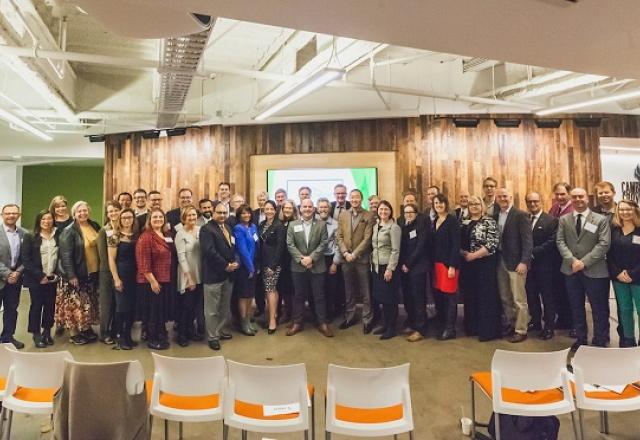 Nearly 50 organizations in the Pacific Northwest convened at Cambia Grove on Friday, December 8 to sign a memorandum of understanding (MOU) establishing the Cascadia Venture Acceleration Network, a partnership of incubators, accelerators, universities, investors and industry associations.
Cascadia region leaders announce partnership throughout B.C., Washington state & Oregon to work toward an innovation ecosystem #CascadiaVAN pic.twitter.com/PKrENF5ec8

— The Cambia Grove (@CambiaGrove) December 8, 2017
Members of the Cascadia Venture Acceleration Network have pledged to work collaboratively in support of entrepreneurs and researchers across British Columbia, Washington state and Oregon. The Cascadia Venture Acceleration Network will initially focus on the life sciences, information technology, and clean tech industries, then expand to include other sectors in the future. 
This cross-border network was led by the Consulate General of Canada in Seattle, in line with the Government of Canada's mandate to foster international partnerships in science, technology and innovation. Hon. Bruce Ralston, a Member of the Legislative Assembly of British Columbia, said at Friday's event, "We're all here because we want to make the world a better place. And more importantly, we share the belief that technology has the power to help take us there."
Powerful words from the Hon. Bruce Ralston: "We're all here because we want to make the world a better place. And more importantly, we share the belief that technology has the power to help take us there." #CascadiaVAN https://t.co/WoIQCIVYfe

— BC Innovation Council (@bcic) December 8, 2017
Key goals of the Cascadia Venture Acceleration Network will focus on innovation implementation and commercialization, including:
Identifying innovations ready, or nearly ready, for commercialization
Introducing innovators to cross-border funding and support opportunities
Facilitating cross-border trade and collaboration for innovators
Redirecting non-commercial-ready innovations to research organizations
Sharing activities such as workshops, seminars and other educational and networking events
"The Cascadia Venture Acceleration Network celebrates the region's shared interests and talents, strengthening our individual voices by speaking as one region," said Maura Little, Executive Director, Cambia Grove. "We're proud to be a founding member of this partnership which will broaden the collaborative foundation of the Cambia Grove. Our mission is to build community and catalyze solutions that will create a more person-focused, economically sustainable health care system. We look forward to working across our borders to create a stronger ecosystem for innovation."
Mr. Lee, Consul Gen of Canada in Seattle "enormous potential to https://t.co/zljkwcZNnZ & goodwill is a competitive advantage" #CascadiaVAN pic.twitter.com/Aneb55KU6u

— Maura Little (@MauraLittle) December 8, 2017
To learn more about the Cascadia Venture Acceleration Network, check out the following: