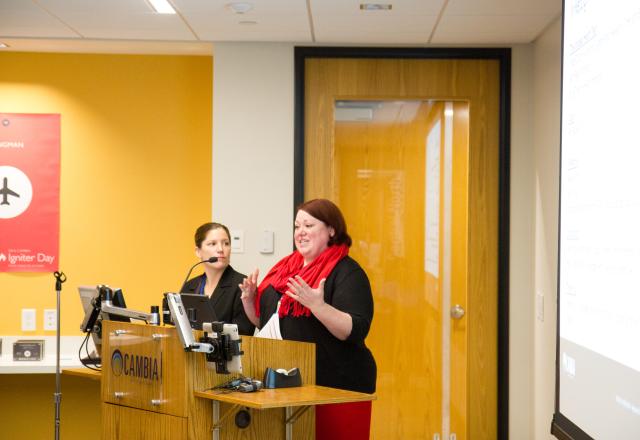 By Alexis Rolloff, Innovation Force
At Cambia, we practice innovation as a value – a shared belief that new ideas are necessary to transform the health care system. While ideas live in our mind, values live in our hearts.
Innovation as an agent of transformation requires both new ideas and individuals with the courage to bring them forward and take action on them. We recognize such employees as "Igniters".  They embody the value and spirit of innovation and intentional curiosity at Cambia. 
Cambia recently celebrated these individuals on Igniter Day, dedicated to those employees taking action on their ideas to solve consumer challenges in health care.  To mark the day, Cambia's Innovation Force hosted an event featuring six Igniter teams driving ideas forward.  Cambia executive leaders joined to learn what consumer pain point had inspired each Igniter and how they were solving for it.
Through the experience, as described by Igniter Tania Erickson, "I learned that I can make a difference and even from my position in customer service my voice is heard and my opinion matters."
These exchanges reinforced the broader purpose of Igniter Day in providing an opportunity for all employees to reflect on how they are taking accountability for bringing consumer pain points they witness in the healthcare system to solution.
As expressed by Paul Lowry, a Medicare Sales Executive, "We are allowed to take something we feel strongly about and make it a reality.  Employees should embrace this opportunity and take it upon themselves to create something that will have a positive impact." 
Max Jansasik, VP of Innovation, added "Transforming health care begins with each one of us believing something better should exist and acting upon it. Igniters at Cambia demonstrate the power of this principle."
Learn more about Cambia's innovation culture: "Culture Change in Practice: How Cambia is Building Intrapreneurship"
About the Innovation Force
Cambia's Innovation Force is leading the charge to disrupt health care.  The diverse team is designed to build a culture of innovation, accelerate business challenges to solution, and create new products and businesses.  For more information about how the Innovation Force can accelerate your business or culture, contact us at IF@CambiaHealth.com.
Pictured above: Igniters Michele Galvan and Miriam Douthit share with the audience the inspiration behind their idea.