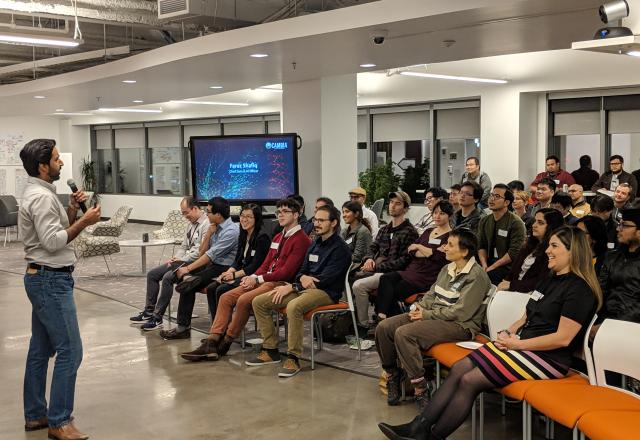 By Jynelle Mellen, Assistant Director of AI Strategic Initiatives, Cambia Health Solutions
The powerful combination of artificial intelligence (AI) and a person-focused approach is key to Cambia Health Solutions' work of transforming health care. On Nov. 6, Cambia's new Chief Artificial Intelligence Officer Faraz Shafiq and Cambia's AI team hosted an open house to share insights with data-minded college students and local tech professionals. Faraz opened the session by explaining the shortcomings of the broken health system from a technologist's perspective, reframing them as opportunities for AI to shape health care.
The AI team walked attendees through solutions based on three key approaches to improving the consumer experience: 
Getting to know our consumers better
The team shared how natural language processing (NLP) can be used to better understand the consumer's needs by understanding trends taking place within various customer interactions. For example, mapping high volume customer inquiries (such as provider searches) into simple health care terminology to create a consumer-friendly AI bot. A solution of this nature is informed by the consumer, for the consumer. 
Understanding the consumer journey
Cambia offers relevant and personalized recommendations to consumers by using machine learning to predict the likelihood of future medical events (such as a future ER visit). The team shared how models are used to predict potential health risks across a range of events. The output of the model allows for case managers to quickly (and visually) see the relationship between events and provide personalized care recommendations to our consumers. One example is offering relevant preventative care options to reduce the likelihood of a future ER visit or serious event.
Empowering consumers with actionable insights for their health and well-being
The team shared two solutions (conceptual symptom checker model and a consumer-facing AI bot). Both solutions demonstrated how we can offer consumers personalized, real-time, 24x7 information about their health care needs and questions. The AI bot demo included a brief glimpse of how a consumer can access relevant, personalized information about providers, specialties, and specific medical coverage at their fingertips.
Cambia's AI Open House offered a sneak peek at what's to come for the health care industry. To learn more, listen to what Faraz had to say: