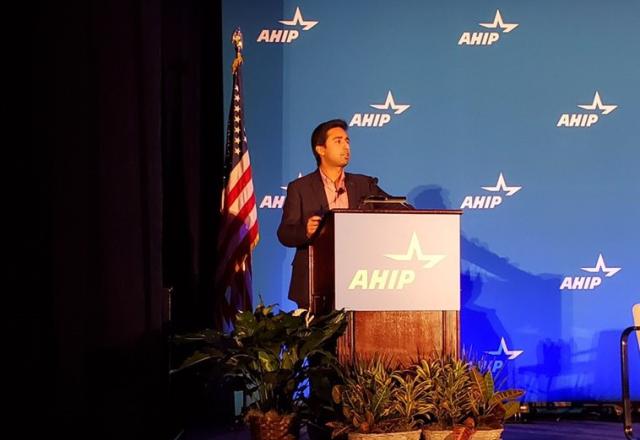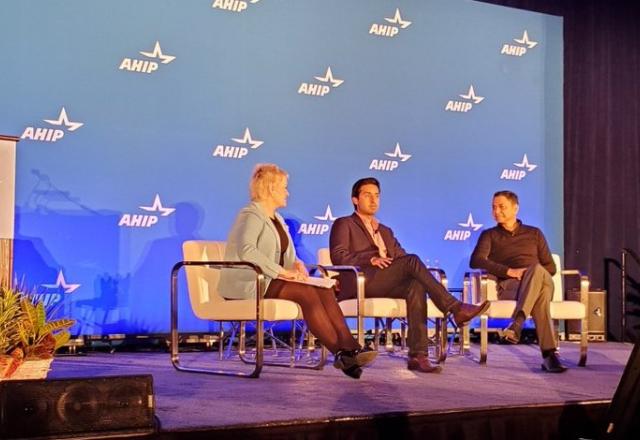 Convenience is king, even in slowly-adopting sectors like health care. Technology advancements and data science are bringing us closer to realizing a health care system built for convenience.
As a keynote speaker at the AHIP Consumer Experience & Digital Health Forum on December 11, Faraz Shafiq, Cambia Chief Artificial Intelligence Officer (CAIO), talked about what's in store for the future of the health care industry when it comes to the promise of artificial intelligence (AI) and data digitization to streamline innovation and enhance consumer decision-making.
"Health care of the future is extremely personalized," said Faraz. He explained how Cambia employs human-centered design, combined with AI, to better understand and create the health care experiences people want – simple, affordable, personalized and convenient.
Faraz and co-speaker Rajeev Ronanki, of Anthem, also emphasized the mountain of data available today and how consumers expect health care companies to work together to integrate that data into care personalized to them. "There's no secret to solving this issue," said Rajeev. "There is just work that needs to go into organizing the data and making it happen."
Enhancing the Patient-Provider Relationship with AI
While technology can help revolutionize health care, it cannot replace the human touch. Faraz shared with attendees a solution called Nurse Insights and quantified how this clinical predictive model uses data to augment care delivery and help providers reach more patients who need extra attention.
The tool's data analysis and predictive AI help return the provider's focus to the individual, he said. Results have shown:
70% reduction of providers' time spent researching and preparing for patient visits
30% increase in providers' outreach capacity
Technology can streamline processes and increase efficiency, but the focus isn't about the technology. "It's about how technology empowers people to make better decisions about their care," said Faraz.
Innovation Happens at the Intersection of Technology and Humanity
Speaking later that day on AHIP's afternoon panel, "How Technology Innovation Will Play a Critical Role in Prevention," Faraz pointed to the impact of social determinants of health (SDoH) on a person's wellbeing. These include the conditions where people live, learn, work and play that affect a wide range of health risks and outcomes.
In one example, Faraz shared how research has shown a statistical correlation between a person's zip code and their mental health and stress levels. AI can help analyze the impact of factors such as education, employment, food security, housing, access to health services, social isolation and transportation.
The core premise, he said, is that rather than evaluating everyone's symptoms through the same health triage model, care needs to be more individualized. With at-home genetic tests driving precision medicine, it's possible to design very personalized, very powerful approaches to care delivery and augment it with data science, AI, IT, sensors, smartphones and more. In a condition such as mental illness where symptoms may not be as evident, AI models can detect signs of depression and anxiety by analyzing patients' voice patterns.
The key is the ability for AI and data science to do the heavy lifting – connecting dots for people, behind the scenes – so the health care experience is easier. "Innovation will be making it all seamless," said Faraz.
Read more about how Faraz and his team are implementing AI to improve the health care experience: AI at Cambia.